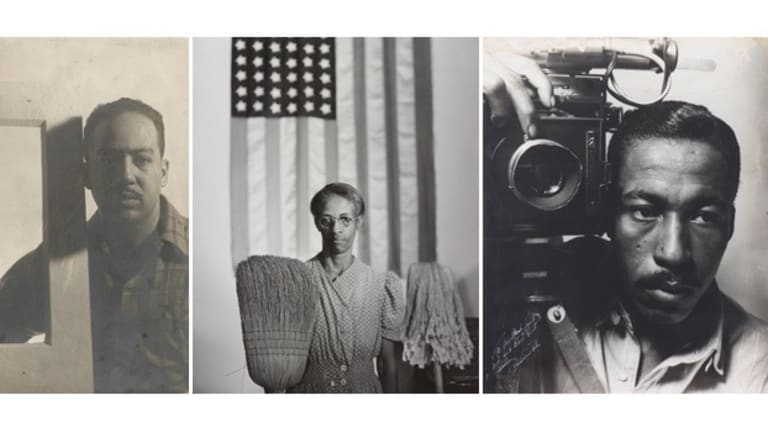 Gordon Parks Exhibit Chronicling Early Career Years Opens in November
Gordon Parks: The New Tide, Early Work 1940–1950 traveling exhibit will open in D.C. then Cleveland and Fort Worth.
Most of us know Gordon Parks for his work with Ebony, Glamour, and Life magazines, but few of us are aware of the formative years in his career. But that's about to change thanks to the Gordon Parks: The New Tide, Early Work 1940–1950 traveling exhibition that is set to open at the West Building of the National Gallery of Art in Washington, D.C. on Nov. 4th.
"As this exhibition shows, his photographs from the 1940s are the foundation of his storied career and vision," said Peter W. Kunhardt, Jr., Gordon Parks Foundation executive director, in media materials. "For Parks, creativity brought with it a fuller, more poignant understanding of humanity that is now our responsibility to share."
The exhibit is the first to highlight the "lesser known yet incredibly formative period of Parks's long and illustrious career." With the help of 150 photographs, as well as rare magazines, newspapers, pamphlets, and books, the exhibit will explore the years in which Parks grew from a self-taught portrait photographer to a photojournalist in St. Paul and Chicago. It will provide a detailed look at Parks's early evolution and "also demonstrates how Parks influenced and was inspired by a network of creative and intellectual figures—including Charles White, Roy Stryker, Langston Hughes, Richard Wright, and Ralph Ellison," according to media materials.
While researching Parks, organizers discovered an unpublished manuscript he wrote and aptly titled Fashion Photography. Gordon Parks explores the visionary photographer's portraiture as well as his fashion photography.
If you're unable to view Gordon Parks: The New Tide, Early Work 1940–1950 in D.C. before it closes on Feb. 18, 2019, it will also be on view at The Cleveland Museum of Art from March 23rd to June 16th, the Amon Carter Museum of American Art, Fort Worth from August 31st to December 29th, and the Addison Gallery of American Art, Phillips Academy, Andover in 2020. If those cities aren't on your travel itinerary, there's also a fully-illustrated catalog, produced and published by the Gordon Parks Foundation and Steidl in association with the Gallery. It features extensive new research and many previously unpublished images.
"While Gordon Parks's varied career and influential oeuvre have been well noted and cataloged, the foundational first decade of his life as a photographer has never before been explored in such detail as it is in this rich exhibition and volume," said Earl A. Powell III, director of National Gallery of Art, in media materials.