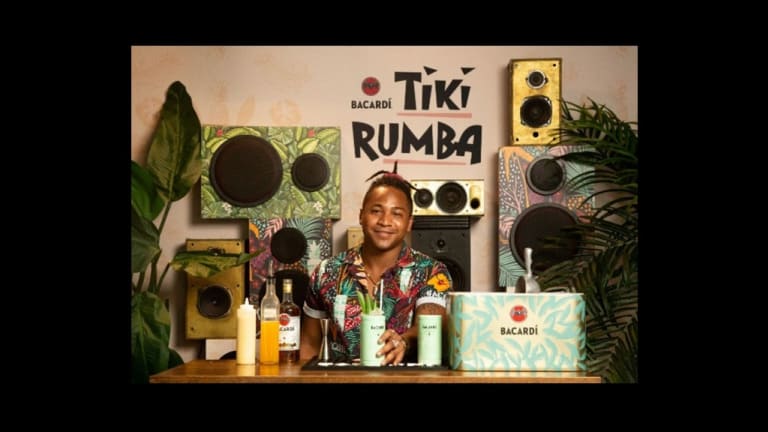 Get Your Drink and Virtual Party On!
Bacardí's Tiki Rumba sets and Volley's ready-made tequila and seltzer cocktails will definitely start the virtual party.
By Ronda Racha Penrice
These days we are taking the party inside. And Bacardí has been helping big time with its Tiki Rumba sets. Hosted by Tiki & Slow Jams, a pre-COVID party on the move physically from Brooklyn to D.C., New Orleans, and beyond curated by mixologists Devin Kennedy, Channing Centeno, and French Scott Marshall, mixing drinks and old school vibes, Tiki Rumba has recreated that vibe virtually. Every Thursday since late-October, they have been jamming, grooving people while teaching them how to shake up new cocktails. DJs have included Farrah Flosscett, Steflo, and Legatron Prime.
It's not too late to party. There are two more fêtes, December 3 and December 10, but it's rumored there may be more. Tuning in is free! Plus you can order a kit for, say, the Cuatro Mai Tai, made with Bacardí Anejo Cuatro, through Sourced Craft Cocktails, for next week or so, you can pick it up in select cities like Atlanta, NYC, LA, San Fran, Miami, Dallas, and more to join the jams immediately.
And should you want more, in this virtual world, the playlists are on the site and so are the super-easy cocktails, like the one for the Bacardí Cuatro Mai Tai below.
Bacardí Cuatro Mai Tai
Ingredients:
1.5 oz Bacardí Añejo Cuatro rum
0.75 oz Orange Curaçao
0.5 oz lime juice
0.75 oz Orgreat
Orange bitters
Garnish: dehydrated orange wheel or min sprig
Method: Shake and serve over crushed ice in a tiki mug. Garnish with a dehydrated orange wheel and/or mint sprig.
An Agave Seltzer
Tequila and seltzer do go together. Don't believe us? Just try Volley. It's made with just three ingredients—100 percent blue agave tequila, sparkling water, and organic juice. All clean too. It comes ready-to-drink in a can in the four delicious flavors of Zesty Lime, Spicy Ginger, Sharp Grapefruit, and Tropical Mango. But you can mix it if you want, too. It's gluten-free with no added sugars or corn sugar. It's catching on quick. Right now, it's available in cities like NYC and the ATL and growing, but you can order it too. At under $20 for a pack of four, one flavor or all four, it's affordable too! Just go to the website and check it out.