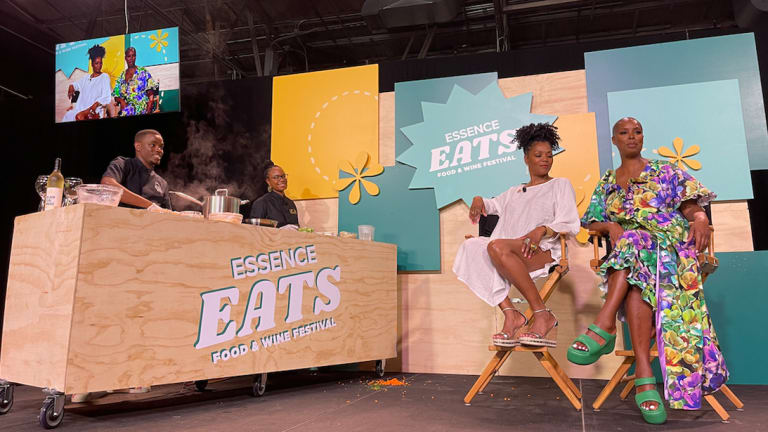 From Saint-Martin to ESSENCE Fest: These Chefs Brought the Islands to NOLA
The people of Saint-Martin consider themselves the melting pot of the Caribbean, and their cuisine showcases that heritage.
Saint-Martin may be home to lush greenery, tropical beaches, and much more, but its brilliant culinary talent will always take center stage. Chefs Kénila Hyman and Kareem Brooks have built names for themselves as culinary geniuses within their respective careers. For Chef Hyman, that looks like following in her father's footsteps as the owner and head chef of Heritage Kitchen after getting her degree in business. Chef Brooks, also known as "Chef B," has developed a reputation as a renowned celebrity chef, having cooked for celebrities such as Davido, Sidra Smith, and others. While these two rising stars took different paths to culinary success, they now have one more thing in common — The 2022 ESSENCE Festival of Culture.
The 2022 ESSENCE Festival of Culture, also known as Essence Fest, took place in New Orleans earlier this month. The in-person festival featured live performances from legendary musicians such as Patti LaBelle, Janet Jackson, Nas, and others at the Caesars Superdome. During the day, attendees participated in events centered around wellness, financial literacy, entertainment, and more at the Ernest N. Morial Convention Center. Needless to say, the Big Easy was brimming with star power, including that of Chef Hyman and Chef Brooks. On the last day of the festival, the Saint Martin natives gave a culinary demonstration, teaching participants how to make a few staple dishes from the Caribbean island. For Chef Hyman, the opportunity is so special because they're able to shine a light on their beloved homeland's cuisine.
"It's really mind-blowing, honestly. This opportunity is so great, and we're so grateful to be here," Chef Hyman said to UPTOWN. "Although it's very surprising, but not really, because I do believe that Saint Martin deserves to be in the spotlight because we have a lot to offer. We are the melting pot of the Caribbean."
For Chef Brooks, the moment to showcase Saint-Martin's cuisine is an honor simply because he was able to showcase some of the beautiful offerings of the country, like Journey Cakes and Saltfish.
"If there's any place that we need to be, that we actually have our place, is here at the ESSENCE Festival among many other festivals," Chef Brooks told UPTOWN. "I just feel honored to be here with Chef Kénila, to bring a pinch of what we actually have to offer because there's actually so much to offer."
Coincidentally, this year also happens to be the Year of Gastronomy in Saint-Martin, a global festival in which some of the special foods on the island will be highlighted.
"This year, it was extra special for us to be here at the ESSENCE Fest because this year happens to be the gastronomy year of Saint-Martin, which means that we have our second annual gastronomy food festival from November 11th to November 22nd," said Chef Brooks. "We showcase Saint Martin's cuisine just in general."
It's no secret that the two chefs have ascended to undeniable success, but for them, it's all a result of their upbringings. For Chef Hyman, her family's influence played a significant role in her success.
"My brand is really a representation of our values, including family, generosity, and excellence. We are very prideful people, so we're very attached to our image, and we just want to bring and put forth the best of everything," said Chef Hyman, who prepared Stuffed Dumplings with Crab during the demonstration.
It's that same legacy that can be found in the Saint-Martin's signature dishes. Chef Brooks feels that the island's sense of heritage is of utmost importance and can be found in the food.
"We are the melting pot of the Caribbean, but one thing we do not lose is our heritage and the identity of our personal cuisine," Chef Brooks said. "You can find whatever you want to find on the island, but you will always find our food."