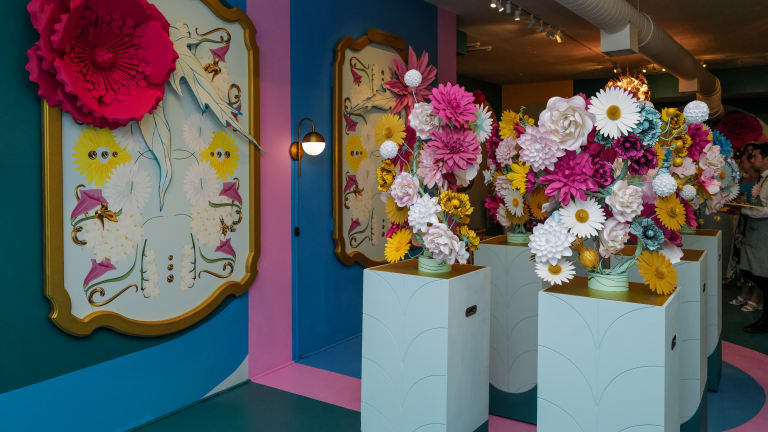 Fleuriste St-Germain Is a (Paper) Floral Wonderland
Fleuriste St-Germain is also a Parisian-style salon, where guests will build community while harnessing their individuality. Artist Jameel Mohammed explains ...
St-Germain Elderflower Liqueur transformed 25 Howard St. in New York City's SoHo neighborhood into a pop-up multisensory floral experience, once again. Fleuriste St-Germain is a wonderland where beauty abounds, tipples delight, and conversation sparks à la the salons of Paris in the 1920s.
For the 2nd Annual Fleuriste (flower shop en Français), St-Germain had to think outside the vase because there's a global flower shortage, and having a floral experience without any flowers would be like having a fashion show with no fashions (That's an RHOA joke, IYKYK). But rather than take this as an obstacle, St-Germain used it as an opportunity to introduce New Yorkers to the talents of multi-hyphenate artist and KHIRY Creative Director Jameel Mohammed and paper designer Zoe Bradley. The result is a truly whimsical yet tasteful explosion of Mohammed-designed prints, where flowers bloom out of the gold frame, and Bradley's unique paper floral sculptures, complete with birds and bees, are so intricate admirers can't help getting an inspection close-up. And of course, the libations were flowing – the artfully crafted "Songbird," "Fleur Savage," and "Above the Clouds" cocktails were inspired by Bradley and Mohammed (recipes below) – and will continue to flow while St-Germain Fleuriste welcomes guests (21+) from Friday, August 12 (2-8 p.m.) through Saturday, August 13 (12-8 p.m.).
Last night, St-Germain treated an illustrious mix of cultural tastemakers, celebrities, musicians, and industry innovators to a preview of St-Germain Fleuriste. During the intimate soiree, St-Germain National Ambassador Earlecia Richelle led an impassioned and frank discussion between Mohammed and Bradley, in which the questions were inspired by philosopher Marcel Proust. They spoke about how their everyday lives inspire them and inspiration can come from any aspect of your everyday life. Mohammed explained that he often will catch a glimpse of a garment as he's walking around NYC, and his mind will complete the design of the piece. He said, the garment oftentimes isn't actually as he imagined it, but he usually prefers his creations. Bradley also advised that others' judgment shouldn't thwart your self-expression. She shared that she feels her most confident in a gold lamé cape that allows her to cocoon like a caterpillar or make a bold statement like a butterfly. Mohammed punctuated the night by performing two of Ella Fitzgerald's songs, "Blue Skies" and "I Didn't Know What Time it Was" to rousing applause from the audience. (Yeah, I don't use the label multi-hyphenate lightly.)
"Seventy-five percent nervousness, 25 percent excitement," said Mohammed to UPTOWN as he puffed on a celebratory Newport following his performance. "Like, I literally didn't die. Still breathing."
It was a refreshing moment to hear a talented creative – who caught the attention of the CFDA Vogue Fashion Fund in 2021, helms the modern luxury brand inspired by the African diaspora he founded, and designs sculptural jewelry that has graced countless covers of the fashion glossies – express trepidation to a stranger. However, Mohammed soon went even deeper ...  
How do you quiet the naysayers when you're tapping into another genre of your creativity?
Jameel Mohammed: That's the thing I actually don't. Well, I don't quiet the naysayers. I listen to the naysayers, because it helps me understand how to frame what I want to do already. So that's one thing. The second is that I'm a naysayer. Most of the naysayers are me or someone that I heard in sixth grade and have just been repeating (the negativity) they said.
So you're kind of your worst critic?
JM: Yeah, I definitely think so. And I think I really always expect to receive like this huge friction. And sometimes there's a quieter friction of, "You're just not that good at this yet. So like, work on it. Keep working on it." That doesn't mean that no one sees the possibility for me. And I have to believe that the people who get it, will get it.
How would you suggest someone should approach maintaining their individuality, while also building a community of support around them like you have at your Williamsburg studio?
JM: That's really interesting, and these questions are very insightful. No, I like, I like the real. I would say, it's a constant juggle between the self and the community. And I think that both have to have a really important role in your life for you to really feel healthy in the world, you know. And then, that being said, in terms of balancing them, I think, over time, what has allowed me to become better is having experiences that make my boundaries, like, evidence-based. You know, keep living life, and you're just like, "I actually don't want to do that, because I tried it," not just like, "It looks scary." You tried it and you realize actually, not for me, (I'm) not that girl. So that I think that allows me to forgive more, because it means I trust myself, to walk away when it's too much for me.
Where do you think that trust comes from?
JM: Literally what I said tonight, it's confronting your fears, or having your fears confront you, and just surviving that s–t. There's so much evidence and just like, wow, I felt so many ways, and I've always thought that indicated actual danger, and maybe it just indicated something new. And sometimes, it did indicate actual danger. Those were lessons to hold onto.
Why do you think spaces like the Fleuriste, your studio in Williamsburg are necessary today? We're back outside, and these are coexisting spaces?
JM: I think it's important to find out who we are going to be from this moment on. I think there has been that murmur that things are changing. There's no time that greater typifies that than 1920s Paris, which (St-Germain) is so steeped in. Like, revolutions come, you know, get on your knees socks, it's time to go!
And finally, there's this global flower shortage, and buying yourself flowers has become a form of self-care. How do you think people can pivot and sort of get that same feeling, if they can't access flowers?
JM: Well, I think the question is super fundamental. Because really, when you can't, when you don't have access to anything, my solution has often been to try to create something. In the absence of this, I will create something that satisfies me and that makes me feel like I want to be part of the world. 
I'm doing these runway shows. I'm doing my third in September. And I started in fashion, interning at womenswear brands that (focused on) tailoring. And I have so much respect for luxury goods, like perfect resolution, and at the same time, I didn't want to deny myself the right to create something because I don't have mills in Italy or a team of tailors. Like I'll make it from dollar store panties. I'll make it, but I'll make it fabulous! And that's that's the attitude you have to have.