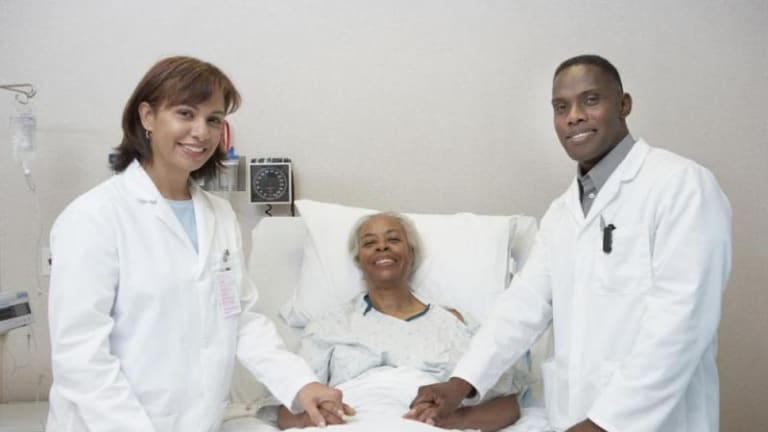 End-of-Life Care, the Decision Is Yours
End-of-Life Care, the Decision Is Yours
Dr. Crystal A. Moore
During her long life former First Lady Barbara Bush served her country by leading causes such as school volunteerism, family literacy, AIDS, homelessness, and issues for the elderly. During her recent death, she continued to lead a nation by opening dialogue concerning how we choose to die. Bush chose comfort care for her final days rather than continued medical interventions to prolong her life. As both a physician and as a person who has observed the death process in loved ones, I want to share the benefits of choice in how we live our final days.
My sister lived a full, exciting life that she did not want to end secondary to her ovarian cancer diagnosis. Consequently, when her end was near she refused hospice care. Her last weeks were spent suffering at home. Her last days were spent tethered to ICU machinery. My mother died of recurrent breast cancer shortly afterwards. She, however, chose hospice care and died comfortably and peacefully at home.
There are many personal factors that determine how we make our decision to transition from life to death. But let us take a moment to understand the options, which exist on a continuum, for medical end-of-life care.
What is palliative care?
Palliative care is specialized medical care to improve the quality of life for patients with life-limiting illnesses. Patients may opt for medical treatments or procedures that help alleviate pain, suffering, and discomfort. A palliative care team of medical professionals will work with the patient's other physicians to improve the patient experience and outcome. It helps patients understand their disease process and navigate the medical system to achieve their optimal personal desires. Palliative care is designed to relieve physical, psychosocial, and spiritual suffering for both the affected patient and their family. It is appropriate at any age or stage of serious illness and can work in conjunction with potentially curative therapies. There is no specified length of life associated with palliative care.
What is comfort care?
Comfort care is an extension of palliative care. It is offered to patients when they decide to discontinue treatments, such as chemotherapy or additional invasive medical procedures, because they are no longer effective as curative agents. A medical care team of experts will continue to work closely with the patient and their family members to optimize the quality of life. The offerings are extensive and tailored to the specific needs of the patient and family. They include, among other things, physician and nursing assistance, medical equipment, medications, social, spiritual and bereavement counseling.
What is hospice care?
Hospice care is an extension of compassionate comfort care for people who are expected to live for six months or less if their disease continues to progress as expected. Hospice care services can be rendered in the patient's home, in assisted living facilities, or within the hospital setting. The offerings decrease the burden of suffering and ease transition to death.
​
End-of-life care and services are available to everyone. However, numerous research studies demonstrate that there are disparities in how different races and ethnicities view and make this very personal last choice. African Americans are known to utilize end-of-life services at a rate that is a fraction of Whites. It has been speculated that the origin of this difference lies in everything from religion and spirituality, to historical mistrust of the health care system, to lack of access, to the lack of diversity in medical providers.
Education, understanding, and open dialog with your medical care team is imperative in all aspects of your medical health decisions. End-of-life care is no exception. Knowledge is power and informed choices can alleviate the physical, emotional, and spiritual stressors that are integral in the death process for yourself and your loved ones.
As I mentioned, my sister decided against end-of-life care and chose instead to try all possible medical interventions. At the end of her life, she was unable to speak for herself any longer. We as a family had to make the painful final decision concerning when to discontinue her life support. Please spare your family from that burden. We should discuss with our loved ones our desires for our inevitable deaths. It is difficult on a family when emotions and conflict are high to resolve such issues. Every person deserves the dignity of deciding issues surrounding death and dying for themselves. We owe it to ourselves. And we owe it to our families to give them the gift of peace that comes with the acceptance of our own mortality.
​
​
You can follow Crystal Moore, MD, PhD, FCAP at www.DrCrystalMoore.com, or on Twitter (@DrCrystalAMoore) for more health information and to receive a Prescription For Life (#RxForLife) to maximize your wellness in body, mind, soul, and spirit.
Dr. Moore is a native of the Hampton Roads area of Virginia, where she resides with her two teenage sons.
Dr. Moore professed, even as a young child, that she wanted to be a physician. For her, medicine is not just a profession, but also a calling. Following that calling led her to pursue a dual doctorate, physician-scientist, MD/PhD degree at the Medical College of Virginia. Her Ph.D. was awarded in the Department of Biochemistry and Molecular Biophysics. She completed her residency training in Anatomic and Clinical Pathology at Duke University and is a board-certified Fellow of the College of American Pathologists.
As a sought after speaker, Dr. Moore delivers complex information in a highly understandable and remarkably humorous manner. She speaks to the total person and her message heals the body, mind, soul, and spirit. Dr. Moore believes and conveys that health is wealth-not to be taken for granted, but to be actively pursued. Accordingly, she guides individuals and audiences on a journey to wellness and abundant life.