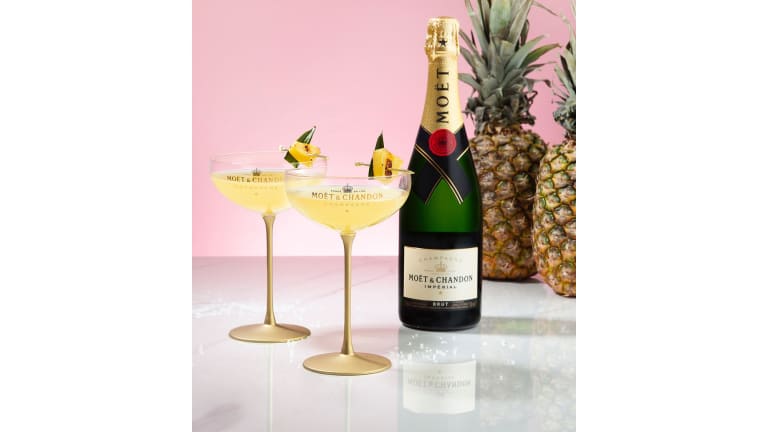 Drink Like You Were at the 77th Annual Golden Globes Last Night
The Moët Golden Hour is the glamorous cocktail you need for every big night in or out.
As you may know, Moët & Chandon is the official champagne of the Golden Globes and has been helping the award nominees and winners toast for more than a quarter-century. To celebrate the 77th Annual Golden Globes this year, Moët took the celebration in another direction by unveiling a signature cocktail, The Moët Golden Hour, which created by acclaimed fashion designer LaQuan Smith. Here are the details on how you can try this bubbly cocktail at home.
Smith, who is known for pushing pop culture forward with his signature style and celebrity clientele, was inspired by "the colloquial golden hour atmosphere of ideal lighting and glamour" before any big night.
Even though you likely didn't revel in the glamour of the Globes firsthand last night, you can still experience those golden moments that make you feel amazing before any important event with the limited-edition Moët & Chandon Golden Globes Champagne Box ($100) from GiftAGram.com. This champagne kit arrives at your home with the recipe card and all the accoutrement needed to create The Moët Golden Hour:
1 Moët Impérial bottle 750 ml
2x Mini Moët bottles 187 ml
2x Golden Mini flutes (sippers)
2x Moët branded coupes
Cocktail Toothpicks (Set of 6)
You're sure to be a winner with this kit at your next glamorous gathering, but if you'd rather sip and people watch, The Moët Golden Hour is available for order at these key locations across the nation:
NYC:
Employee's Only
Mr. C Seaport
The London Hotel
CALIFORNIA:
Baltaire
Four Seasons Biltmore, Santa Barbara
Jean-Georges, Waldorf Astoria
Mr. C Beverly Hills
Spago
The London Hotel
The Polo Lounge, Beverly Hills Hotel
MIAMI:
Mr. C Miami – Coconut Grove