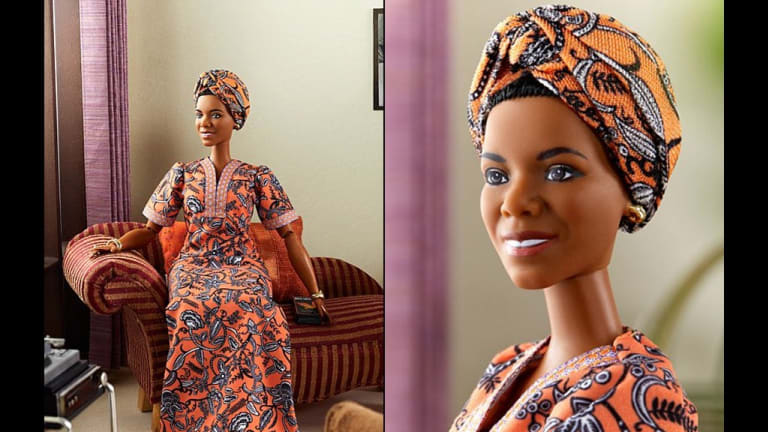 Dr. Maya Angelou Is the 10th Role Model of the Barbie Inspiring Women Collection
Barbie celebrates Maya Angelou and I Know Why the Caged Bird Sings with the latest Barbie Inspiring Women doll.
Barbie has selected the late Dr. Maya Angelou to be the 10th honoree in the Inspiring Women doll series, which launched in 2018.
The incredible women honored in this collection are known for taking risks, changing rules, and leading generations of girls to dream bigger than society expects them to. With numerous awards and accolades, including a Presidential Medal of Freedom and 50 honorary doctorates, Angelou is a fitting addition to the series. She was also the first Black female poet to speak at a U.S. Presidential inauguration, the first one of Bill Clinton, the 42nd President of the United States. This event brought worldwide attention to Angelou and her literary work, especially her 1970 autobiography I Know Why the Caged Bird Sings. This captivating account of how Angelou overcame adversity is simultaneously heartbreaking and heartwarming, and continues to enthrall readers to this day.
The collectible Barbie Inspiring Women Maya Angelou Doll ($29.99) is sculpted in the writer, author, activist, and teacher's likeness and features a curvy articulated body. It wears a head wrap and floor-length dress in a matching floral print. She wears a golden ring, bracelet, watch, and earrings. In addition, the doll holds a miniature replica of I Know Why the Caged Bird Sings, which was nominated for a National Book Award in 1970.
The Angelou doll is housed in specially designed packaging that depicts a well-stocked bookcase, lamp and table, and staircase, making it easy to display her inside the box. If you choose to unbox her, a doll stand and Certificate of Authenticity is included.
The Black Label series doll was available for pre-order, but sold out after launching today. With a little patience, though, you should be able to purchase the Barbie Inspiring Women Maya Angelou Doll from Amazon, Walmart, or Target in the coming months.
Check out some of the other women who have been honored in the Barbie Inspiring Women doll series here.