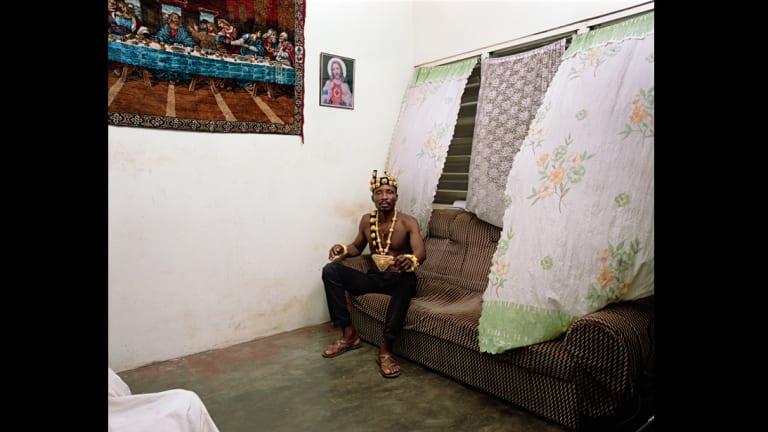 'Deana Lawson, Centropy' Opens at New York City's Guggenheim
Deana Lawson is The Hugo Boss Prize recipient for 2020 and her work features subjects who simultaneously exist in the tangible world and the spiritual realm.
Deana Lawson, Centropy, winner of The Hugo Boss Prize 2020, recently opened at the Solomon R. Guggenheim Museum, and the exhibition of new and recent works will be on view through Oct. 11, 2021.
Deana Lawson is the thirteenth artist to receive the biennial Hugo Boss Prize, which is selected by a jury of international critics and curators and has celebrated significant achievement in contemporary art since its inception in 1996. Each prize winner is afforded a solo exhibition to present works that realize their current creative thinking. These presentations have become an integral part of the Guggenheim's contemporary program.
Lawson's Centropy includes large-scale photographs, some of which are embedded with holograms; collages composed of small photographs and crystals; and crystals intentionally placed in the corners of the gallery. The entire installation is arranged around a holographic torus thereby forming a constellation that "draws on the thermodynamic concept of centropy, a term that describes how the electrification of matter leads to regeneration and harmonious order. The same impulse of renewal through creative energy is central to Lawson's vision, in which her subjects are figured as ineffably splendid, occupying a world that they command absolutely."
Lawson either seeks out or happens upon the strangers she collaborates with for her photographs and films. The subjects are representative of the Black diaspora and simultaneously exist in the real and tangible world and in the "shimmering in-between space of dreams, memories, and spiritual communion, where the everyday is transfigured into the uncanny and the magnificent." Lawson often photographs them in domestic settings in which the decor, including family photographs; lighting; and pose are just as important as the main figure(s). Each composition features portals, adornments like jewelry; tattoos; clothing; an ankle monitoring device in Daenare; and a beaded ceremonial mask in An Ode to Yemaya, and objects of devotion and spirituality, like a funereal floral arrangement and depictions of the Last Supper and Jesus, remind the viewer of just how close the "unseen realm" is. Despite the collaboration between the individual and their surroundings, the sitter often seems to jump, even burn, through the surface of the work to command attention. With the use of mirrored frames that reflect light outwards, Lawson creates an exchange between her subjects and the viewer.
In the fall, the Guggenheim will release its film that explores how Lawson "draws on the legacies of historical portraiture, documentary photography, and the family album, but transcends these traditions, constructing scenes that merge lived experience with imagined narratives." While visiting the museum, be sure to also view Off the Record and Christian Nyampeta: Sometimes It Was Beautiful, which is part of the Re/Projections: Video, Film, and Performance for the Rotunda.