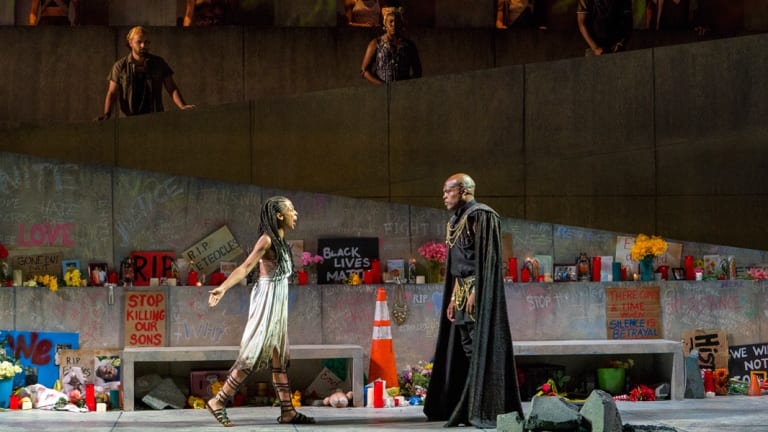 CTH Creates a Quintessential NYC Night with Afropunk-Inspired 'Antigone'
This is the final week of the Classical Theatre of Harlem's run of its Afropunk-inspired Antigone.
There are certain events and occurrences that are quintessentially New York City in the summer. Fire hydrants turned into cooling sprinklers. Makeup-melting heat and humidity in the subway. Shaved ice saturated in deliciously sugary flavored syrup. And, free nightly entertainment in city parks from the city's best cultural entities, like the Classical Theatre of Harlem (CTH).
This month, CTH is presenting its version of Sophocles's Antigone in Harlem's Marcus Garvey Park at the Richard Rogers Amphitheatre. Under Paul Roche's hand, the classic Greek tragedy has received an Afropunk edge, one that showcases "ancient ideas that have taken center stage in the current climate: order, law, justice, and marginalized voices confronting power and patriarchy," according to press materials.
There's turmoil in the future dystopianof Thebes, the struggle for power, glory, and the claim to the city leaves two brothers dead. The king, Creon (Ty Jones), declares one a hero, the other a usurper. Creon orders the citizen's to leave the latter's body in the streets as an example of what happens to those who rise against the state. But then Antigone (Alexandria King) protests the edict and buries her brother as is their custom. She further breaks with the traditions of her patriarchal society by challenging the power of the king and the order he thinks he's bringing to war-torn Thebes.
Although CTH's Antigone draws on themes affecting Black Americans today -- police brutality, powerlessness, disenfranchisement, racism -- director CarlCofield also adheres to the Greek tragic form.
This is the final week of CTH's sixth season as the "Uptown Shakespeare in the Park," so you'll definitely want to make time to sit under the stars and see what CTH can do. They stage the production every night at 8:30, and it is free for the public. Visit CTH.org for more information.
[Images: RichardTermine]