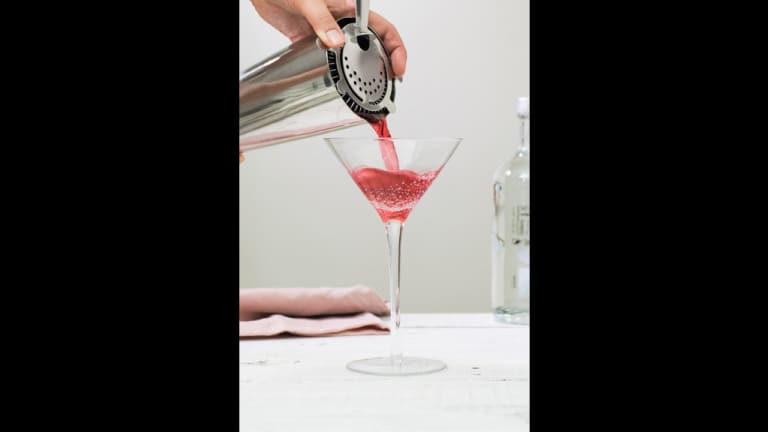 Commemorate National Cosmopolitan Day the Ina Garten Way
The Barefoot Contessa's advice during quarantine: "Stay safe, have a very good time, and don't forget the cocktails."
Tomorrow, May 7th, is National Cosmopolitan Day, a time to celebrate the cocktail that is known for its tangy yet sweet flavor.
Now before you turn up your nose at the mere thought of a Cosmo, consider that The Barefoot Contessa Ina Garten has single-handedly ushered in the second renaissance of the modern-day cocktail Toby Cecchini created in the late-1980s in New York City and the women of Sex and the City re-glamorized in the early-2000s. Seriously, everyone and their mother (well, in my case, father) ordered Cosmos in fancy restaurants, steamy nightclubs, and dive bars alike. While Cecchini seduced Manhattan one regular-sized martini glass at a time, Ina takes the Cosmo to a whole other level with her GIANT-sized martini glass.
Those of us fortunate enough to stay home during this time have the luxury to reflect on the past and maintain old traditions as a matter of preserving our mental, emotional, and physical well-being. Cocktail hour is one of Ina's and our favorite traditions, and she says it can be "almost any hour" nowadays, as long as you sip responsibly. The Cosmopolitan is famous for its pink color, and its bittersweet flavor profile evokes memories of yesteryear — even if your nostalgic memories only go back to the aughts, not the '80s.
Fans of Ina and her recipes have dubbed her the "Queen of Quarantine." Her Cosmo recipe served in a massive martini glass captured the internet's heart and the audience of The Late Show with Stephen Colbert. This classic sip only takes a few ingredients: "good vodka," orange liqueur, cranberry juice cocktail, and a squeeze of lime. Here's how to whip one up for your next Zoom happy hour or share with a quarantine buddy at home.
Ina Garten's Cosmopolitan Recipe
Ingredients:
2 cups (16 ounces) Grey Goose vodka
1 cup (8 ounces) Triple Sec or Cointreau
1 cup (8 ounces) bottled cranberry juice cocktail
1/2 cup freshly squeezed lime juice (3 limes)
Method: Pour the ingredients into a pitcher. Fill a cocktail shaker half full of ice. Pour the cosmopolitan mixture into the cocktail shaker until it's three-quarters full and shake for 30 seconds. Pour the mixture into a giant martini glass and serve immediately.
Note: For regular-sized cosmopolitans, mix the ingredients in a pitcher and then shake with ice in a cocktail shaker and pour into six martini glasses. Please sip responsibly.