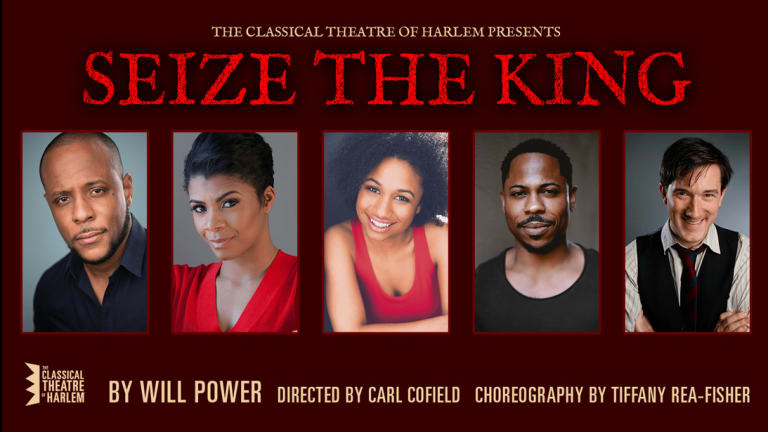 The Classical Theatre of Harlem Presents 'Seize the King'
Here's everything you need to know about The Classical Theatre of Harlem's production of Seize the King in Marcus Garvey Park.
Press release:
New York, NY, May 27, 2021 - The cast is set for the outdoor premiere of The Classical Theatre of Harlem's (CTH) Seize the King, which will begin previews uptown at the Richard Rodgers Amphitheater on July 6th ahead of a July 9th official opening.
Broadway's Carson Elrod and AUDELCO nominee RJ Foster will join Ro Boddie, Andrea Patterson, and Alisha Espinosa in the company. Foster and Patterson are returning to CTH after previously starring in the company's New York Times Critic's Pick production of The Bacchae.
Carl Cofield is directing Will Power's Seize the King, an explosive and timely modern reinterpretation of Shakespeare's Richard III. With his country's throne empty, Richard knocks down threats to his ascension, fueling his insatiable ambition and paranoia.
Performances run July 6th until July 29th, Tuesday through Sunday, at 8:30 pm. Attendance is free; tickets are required. You can RSVP here.
Health and safety measures will be in place for the duration of the production, which will be one of the first to reopen New York's live theater scene since lockdowns began in early 2020.
ABOUT THE CLASSICAL THEATRE OF HARLEM: The Classical Theatre of Harlem (CTH) is an American theater company that tells stories through the lens of the African diaspora. CTH combines original adaptations, music, and dance to present great classics of world literature and contemporary works that will stand the test of time. Since its founding in 1999, CTH has presented works ranging from traditional classical playwrights (Anton Chekhov, Euripides, and William Shakespeare) to established 20th Century playwrights (August Wilson, Langston Hughes, and Jean Genet) to new plays by emerging playwrights. CTH also proudly provides theater-based training and live theater experiences to Harlem youth and their families through its arts education program, Project Classics. The organization incorporates other theatre-related programming including Future Classics, Playwrights' Playground, and Revisited Classics to engage new audiences, invest in artistic development and give exposure to emerging creators. The company serves over 18,000 live audience members (pre-pandemic). Its new online offerings this past season have drawn over 500,000 viewers.