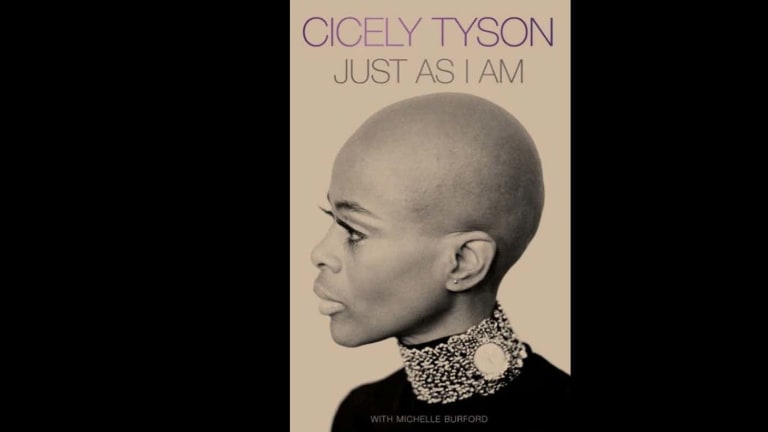 Cicely Tyson's 'Just As I Am' Is a Testimony of Perseverance and Faith
In Just As I Am, Cicely Tyson reflects on her career and how her perseverance was buttressed by her faith in God.
Cicely Tyson died on Jan. 29, 2021 at the age of 96, just days after HarperCollins released her memoir Just As I Am on January 26. Perseverance is one of the themes that was woven through the dynamic actor, lecturer, and activist's life, and her advice on the subject is one that should be heeded, as she has more than nine decades of experience.
Just As I Am is a collaboration between Tyson and New York Times bestselling writer and Oprah Magazine founding editor Michelle Buford. The compelling memoir explores Tyson's life from her early years as the daughter of West Indian immigrants in the tenements of East Harlem, to her fashion model career that included gracing the covers of Ebony and Jet, to her transition into acting in 1955 and building an extraordinary career in which she portrayed Black women on the stage and screen as much more dynamic than the stereotypes and caricatures that were and are often presented of them. As Rebecca in 1972's Sounder, Jane Pittman in 1974's The Autobiography of Miss Jane Pittman, Binta in the revolutionary-for-1977 miniseries Roots, Tyson blazed a trail for Black women, not just Black women actors. Tyson was very guarded with her personal life, but Just As I Am offers a peek into who she was and how family and faith grounded her until her last day.
"Just As I Am is my truth," writes Tyson. "It is me, plain and unvarnished, with the glitter and garland set aside. In these pages, I am indeed Cicely, the actress who has been blessed to grace the stage for [more than] six decades. Yet I am also the church girl who once rarely spoke a word. I am the teenager who sought solace in the verses of the old hymn for which this book is named. I am a daughter and mother, a sister, and a friend. I am an observer of human nature and the dreamer of audacious dreams. I am a woman who has hurt as immeasurably as I have loved, a child of God divinely guided by His hand. And here in my ninth decade, I am a woman who, at long last, has something meaningful to say."
Tyson persevered in spite of the racism, bigotry, sexism, hurt, and heartbreak that tried to knock her down, and used the experiences, along with faith, as clay to mold her into the woman she wanted to be. Her exposure to ignorance and bigotry on a national scale while promoting Sounder led to a defining moment in her career. She made a silent pact with herself to choose projects and roles that would offer the opportunity to use her career as a platform to combat racist stereotypes. As a result, Tyson never played a prostitute, maid, addict, or any other role relegated to Black women.
Another pivotal moment demonstrates Tyson's unwillingness to be deterred on her acting career path, despite the attempts to do just that by a man Hollywood celebrates. In Just As I Am, she reveals that accomplished acting coach Paul Mann sexually assaulted her in 1956. Tyson writes, "History has recorded him as a celebrated teacher, one who prepared numerous luminaries for the stage. Yet in my book, he will forever be regarded as the man who, along my path toward Providence, hurled a brick—one I picked up and threw back at him."
Tyson definitely had a good throwing arm, because she has earned an Oscar, a Tony, an Emmy three-times-over, the Presidential Medal of Honor, and many other accolades.
In addition to discussing her career, Just As I Am delves into Tyson's personal life, most notably her tempestuous romance with Jazz legend Miles Davis that included eight years of marriage. Tyson writes that she was intensely drawn to Davis, even though his behavior would often leave her hurt and humiliated. Tyson seems to have learned something truly profound by being irrationally attracted to someone who routinely caused her pain. "It is possible," writes Tyson, "to be at once hurt by a man and heartbroken for him."
Just As I Am also includes Tyson's unique perspective on the cities she lived in, especially her beloved New York — from East Harlem to the Upper West Side neighborhood she and a few other Black artists integrated in the 1960s to the theater world on and off Broadway. Sidney Poitier, Harry Belafonte, Aretha Franklin, Quincy Jones, Isabel Sanford, Roscoe Lee Brown, Paul Winfield, Ossie and Ruby Davis, Louis Gossett Jr., Richard Pryor, James Earl Jones, Maya Angelou, Alex Haley, Nelson and Winnie Mandela, Michelle and Barack Obama, and many more are the co-stars of the memories she shares in the memoir. Tyson also offers details of the friendships she shared with Diahann Carroll, Roxie Roker, Whoopi Goldberg, Oprah Winfrey, Tyler Perry, Kerry Washington, Shonda Rhimes, Ava DuVernay, and Viola Davis, who wrote the Foreword of Just As I Am. The book also details how Tyson came to establish The Dance Theater of Harlem with renowned ballet dancer Arthur Mitchell and actor Brock Peters, and her link to an East Orange, New Jersey public middle and high school where she has taught a master class in acting to primarily underprivileged students.
Tyson's reflections on race and racism, the Black experience in America, and the continued trauma oppression has caused in Black communities are woven throughout Just As I Am, in addition to its theme of perseverance. She implores Americans to examine the ugly, centuries-long history of oppressing Blacks in order to heal properly and completely. "We must stare into the face of our past and examine what happened here, on our soil, much of it less than a lifetime ago, a lot of it happening now," Tyson writes. "We cannot recover from what we refuse to gaze upon."
Tyson also writes in Just As I Am about how her strength to keep moving and learning is a direct result of her faith in God. "I share my testimony in these pages not because I have reached any lasting conclusions," she writes, "but because I have so much to understand. I am as inquisitive about life now as I was as a child. My story will never be finished, nor should it be. For as long as God grants me breath, I will be living—and writing—my next chapter."