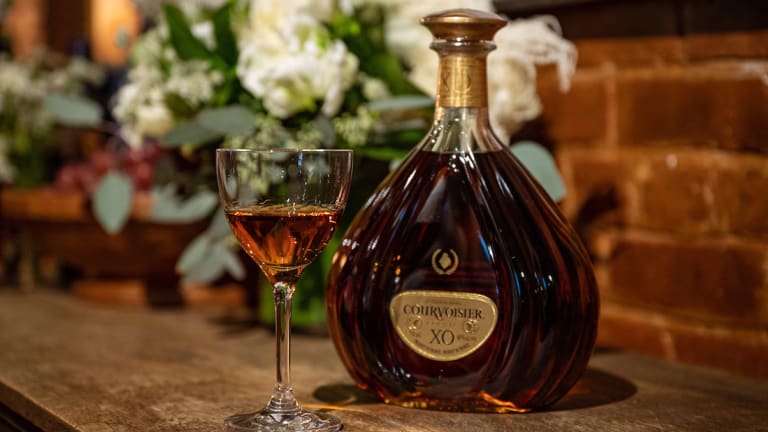 Chef Rōze Traore & Courvoisier Launch 'Welcome to Our Kitchen' Series
Courvoisier culinary ambassador Chef Rōze Traore shares his recipes from the three-course dinner that kicked off the "Welcome to Our Kitchen" series.
On October 7th, Courvoisier Cognac hosted a culinary experience, at New York City's Chef's Dinner Table, in which Chef Rōze Traore presented a bespoke menu and three-course meal. The dinner kicked off Courvoisier's "Welcome to Our Kitchen" series and revealed Traore as the brand's culinary ambassador. 
The intimate gathering allowed attendees to experience Courvoisier's acclaimed portfolio of cognac paired with Traore's delectable cuisine that included Citrus Marinated Crystal Shrimp Crudo, Roasted Duck Breast, Potato Pave, and Caramel Apple Roze. And, of course, there were libations. "The Gala," "Rōze in Bloom," and "Courvoisier Twist" beautifully highlighted Courvoisier VS Cognac and Courvoisier VSOP Cognac and were a collaboration between Traore and Zahra Bates, Courvoisier's global brand ambassador. After the "Welcome to Our Kitchen" kick-off, UPTOWN caught up with Traore to learn why he decided to collaborate with Courvoisier, how cognac enthusiasts can recreate the vibe of the dinner, and how to chef up his recipes like him at home. 
Why did you decide to collaborate with Courvoisier for the "Welcome to Our Kitchen" series?
Chef Rōze Traore: Throughout Courvoisier's history, the brand takes pride in elevating the simple details of its liquid. That pursuit and degree of care is something that resonates with me as a chef. I'm drawn to like-minded brands and I love having the ability to create my art with premium products, so teaming up with Courvoisier was a natural fit for me.
To me, Courvoisier is synonymous with luxury. I love that the brand is getting in touch with their French heritage and bringing that bold, elevated side of the Cognac experience to consumers here. Blending and balancing different cultures is one of my passions, and creating this menu allowed me to do that.
How did you choose the menu? Did you decide on the specific dishes first or did you create the menu to complement the specific cocktails?
Chef Rōze Traore: The process was really collaborative. I took a look at each of the different expressions in Courvoisier's core portfolio – Courvoisier VS, VSOP and XO – and made notes about each of the flavor profiles that I was experiencing in the glass. There were so many different tasting notes in each of the expressions – with one sip you have these really light floral notes that are really refreshing, and then another taste left me with a bit of a richer, oak flavor profile. Zahra, Courvoisier's global brand ambassador helped to build the perfect cocktail pairings to complement my dishes!
Just like the flavors in Courvoisier VSOP, I wanted to take light, flavorful ingredients and marry them together in a dish and take my guests on a journey during the first course featuring refreshing ingredients like lime, cucumber, plantain and fresh prawns. What I love most about this dish is that everything is balanced – when used right, these ingredients are in harmony and they're not overwhelming, similar to the VSOP. Zahra's delicious cocktail "The Courvoisier Twist" helped amplify the flavors in every bite.
The second course is one of my favorites. I feel it is a great representation of Courvoisier's role in French history. This dish showcases my favorite classic culinary styles – from decadent duck to flavorful au jus, this is the epitome of French luxury food. The cocktail Zahra created as a pairing, "Rōze in Bloom" featuring VSOP, was designed to underscore the powerful and very distinct flavors of the duck, and the addition of ginger beer was genius!
Lastly, we served a classic, yet elevated, fall dessert – my take on the caramel apple. This dessert reflects the dynamic flavors of Courvoisier XO – the coffee, almond and caramel are married perfectly on the palate with the earthy notes of the Courvoisier XO.
What tips do you have for someone seeking to recreate the atmosphere of this dinner at home?
Chef Rōze Traore: One of the biggest tips I can share is to get the best quality ingredients you can find and let those ingredients speak for themselves. You'll notice, in most of my dishes I don't saturate the dish. Instead, it's all about finding the right balance that will help those main characters shine.
If you're starting off with Courvoisier – you're on the right path with premium ingredients! Don't be afraid to serve any of the expressions neat and let those rich flavor profiles do the talking.
I'd also encourage at-home chefs to fill the table with people who inspire you. The atmosphere is only as good as those you surround yourself with. Celebrating life's moments, both big and small, with people you love is a luxury in itself.
Scroll through the gallery below to get the recipes for Chef Rōze Traore's three-course meal and Zahra Bates's Courvoisier Cognac cocktail recipes.