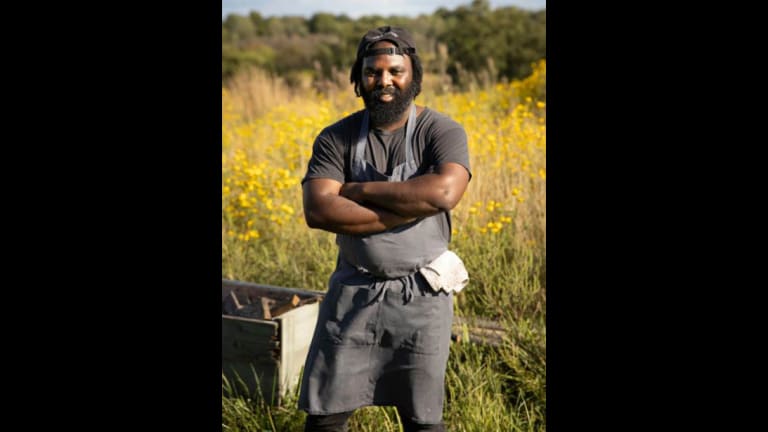 Chef Omar Tate Is 'Cultivating Community' Support for Black Farmers
Through the "Cultivating Community: Dinner Series," Chef Omar Tate and BOMBAY BRAMBLE are raising awareness for the obstacles Black farmers are facing.
With an aim to make "Black-owned farm-to-table" a lasting practice beyond a buzz phrase, Chef Omar Tate, in partnership with BOMBAY BRAMBLE, welcomed summer with the first of his "Cultivating Community: Dinner Series" at Oko Farms in Brooklyn's Williamsburg neighborhood on Wednesday, June 29. The second and third dinners in the "Cultivating Community" series will take place in Atlanta and Charleston.
Although "farm-to-table" ingredients have become more popular in recent decades as Americans question how and where their food is grown, Black farmers are being left out of the conversation. One in seven farmers in the US was Black in the early 1900s, but, as the 20th Century progressed, Black Americans were dispossessed of one of the main necessities for farming – land, about 13 million acres. Discrimination, rising costs, land dispossessions, and more factors have made it so only 1.4 percent of today's farmers identify as Black or mixed race, whereas nearly a century ago, the number of Black farmers was 14 percent, according to McKinsey and Company. 
While working as a cook in some of the best restaurants, including A Voce, Meadowsweet, and Runner and Stone in New York and Fork and Russet in Philadelphia, Chef Tate noticed a lack of diversity in the kitchen and a lack of inclusion of Black-American cuisine on the plate. He also became aware of the obstacles Black farmers face through his travels and continued research.
"The light turned on, as soon as I stopped working so intently in Eurocentric kitchens, and took a step back, and stopped being a cuisine chef and became a line cook, and started researching my whole family legacy and Black history, and reorienting myself from the depiction of slavery to forced labor in agriculture," explained Chef Tate to UPTOWN. "These are people who were enslaved when they were farmers. And so when I understood that those who were enslaved were not slaves – they were farmers, they were blacksmiths, they were cooks, they were maître d's – and gave them human identities, that's when I realized the plight of Black farmers."
Today, Chef Tate is known as a culinary innovator whose award-winning contemporary cuisine intersects Black culture, art, poetry, and science. Fostering community is another important facet of this 2021 TIME 100 honoree's work. He and his wife Cybille St.Aude-Tate have grown the concept of his Honeysuckle Pop Ups as dining experiences to explore the nuances of Black life and culture into the Honeysuckle food-focused community center, which will be fully open in West Philadelphia in the upcoming months.
"Cultivating community to us means ... we have our own community but as a business, as neighbors, as friends in our own community, bringing our diversity to the community is expanding other people's idea of what community means, and bridging those relationships is something that's very important to us," said Chef Tate. "So that completely goes back to the idea of Black farmers. In the farm-to-table movement, especially here in Philadelphia, most restaurants and institutions buy their farm ingredients from the same farmers. The Black farmers, the ones that we work with, their legacy goes back to the South, (but) many people don't even know (that) exists here. Helping people understand what diversity looks like, not just in the neighborhood but in the businesses, that's part of what we're doing."
Some of the issues Black farmers are facing, like access to resources, breaks in the supply chain, and passing down their legacy, are the same issues every farmer has to deal with, Chef Tate explained. However, Black farmers also have to contend with the systemic racism on which the US was built.
"But all those problems are exacerbated by their Blackness, right? Blackness that's persecuted in this country is Blackness that's always under the subjugation of oppression," Chef Tate said. "And so anything that anyone will be dealing with, is just compounded by the racial disparities of being Black in America. So any resource capital that will be available to farmers has historically been denied, just based on the color of (their) skin."
He pointed to the case of Pigford vs. Glickman, in which Timothy Pigford and 400 Black farmers filed a lawsuit in 1997 against the United States Department of Agriculture (USDA) for discriminating against Black farmers when distributing loans and failing to investigate complaints alleging this widespread bias. The USDA settled the lawsuit and compensated more than 16,200 Black farmers, reports Forbes. However, only 371 Black farmers received debt relief. In 2010, the USDA announced a second settlement of $1.25 billion in the Pigford case to compensate the thousands of Black farmers who missed the original deadline to file. Although the Pigford case is the largest discrimination settlement the federal government has ever paid, Black farmers are still plagued by racist policies and practices that do not affect their white counterparts.
Chef Tate and BOMBAY BRAMBLE designed the "Cultivating Community" pop-up dinner series to draw guests' attention to the plight of Black farmers, while also highlighting their network that still exists. Each course spotlighted a "hero ingredient" grown on a nearby Black-owned farm, while the entire pop-up, from the local Black farmers who were honored guests, to the live music, to the decor, to the location on a Black-owned farm in Brooklyn, was a celebration of Black culture. Even the sun cooperated by casting a bronze glow over the dinner guests as it set behind New York City's infamous skyline. To further encourage diverse perspectives in the culinary scene and build an equitable future for Black farmers, BOMBAY BRAMBLE is donating $25,000 to the Black Farmer Fund to help provide financial means and resources to Black-owned farms in the Northeast.
The onus to change the systemic and institutional obstacles Black farmers face isn't on Black people in America. "As individuals who are Black, we're dealing with discrimination every day," said Chef Tate.
He suggests individuals support Black farmers by donating to Black farm co-ops, the Black Farmer Fund, or the National Black Farmers Association. He also advises consumers to buy their produce from Black growers at farmers' markets, as well as shopping in Black-owned country stores, which are often legacy foundations and institutions in small towns in the rural South. In addition, Philadelphians and visitors will be able to shop Honeysuckle Provisions, a curated community-focused grocery store and cafe, once it opens in September.
Support isn't always a monetary endeavor, though. 
"Support is awareness too," Chef Tate offered. "Many of us knew or understood that the legacy of slavery and slaves is one that has been taught to us in a way that does not benefit the humanity of Black farmers, and (we) reoriented ourselves, in the way that I did, to have an understanding that these people weren't slaves, they were enslaved farmers. You might think of them differently, and go out of your way to find them. You know, it all it all begins with education."