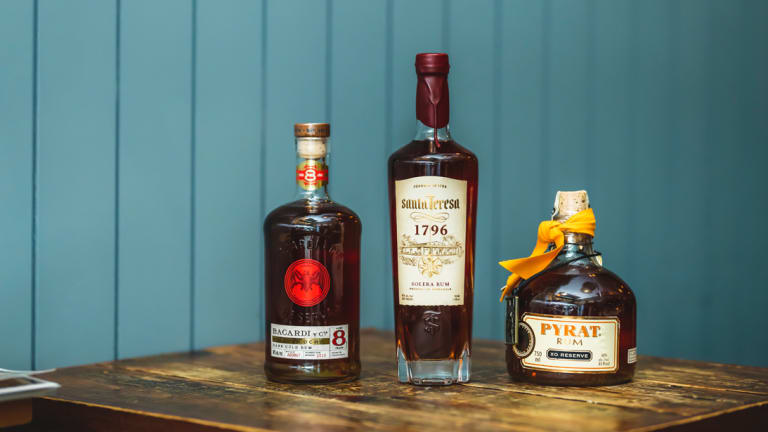 Cheers to the New Old Fashioned [COCKTAIL RECIPES]
Bacardi put an aged rum twist on the tried-and-true Old Fashioned cocktail much to the delight of dark spirits lovers.
To celebrate Old Fashioned Month, Bacardi put a premium rum twist on the classic cocktail and invited guests to New York's Las' Lap on November 9th to experience the New Old Fashioned. The tried-and-true cocktail was updated yet maintained its sophistication thanks to BACARDÍ Reserva Ocho, SANTA TERESA 1796, and PYRAT XO Reserve aged rums.
If you're wondering how rum relates to an Old Fashioned, consider that both have a storied history and long heritage having been around for more than a century. Guests were invited to try a traditional Old Fashioned cocktail made with Angel's Envy Bourbon before learning how to build and mix three New Old Fashioned cocktails that celebrate rum, instead of bourbon.
BACARDÍ Rum Aficionado Fanny Chu kicked-off the mixology session with her version of the BACARDÍ Reserva Ocho Old Fashioned, which contains BACARDÍ Reserva Ocho, Tiki bitters, and banana liqueur. BACARDÍ Reserva Ocho was created in 1862 from the original recipe from family reserve. It is barrel-aged for at least eight years and has a "rich, velvety body."
Then, SANTA TERESA ambassador Marlo Gamora led the budding mixologists in stirring up a SANTA TERESA 1796 Coffee Old Fashioned. The ingredients for this cocktail were SANTA TERESA 1796 rum, Demerara syrup, and coffee bitters. This rum is loved for its bold yet elegant taste that is the result of being aged for up to 35 years in bourbon oak barrels.
Finally, Gio Gutierrez, PYRAT brand ambassador, showed the participants how to build the PYRAT XO Reserve Old Fashioned, which is made with PYRAT XO Reserve, simple syrup, Angostura bitters, and Peychaud's bitters. PYRAT is a blend of rums that are aged for up to 16 years, and it is revered for its complexity and richness.
If you're interested in mixing up these New Old Fashioned cocktails, then make life easy for yourself and order Cocktail Courier's Bacardi Limited Old Fashioned kits that are available through the month of November: Premium Old Fashioned Variety Kit - Pyrat XO & BACARDÍ Ocho ($77.99) and Santa Teresa 1796 Rum Old Fashioned ($94.99).
If you're in the New York area, though, let he experts at Las' Lap (BACARDÍ Ocho Old Fashioned), Analogue (SANTA TERESA Coffee Old Fashioned), and Fats Duvall's Rhum Café (PYRAT Old Fashioned) craft you a cocktail instead.
Learn more about Bacardi's portfolio of aged rums here.