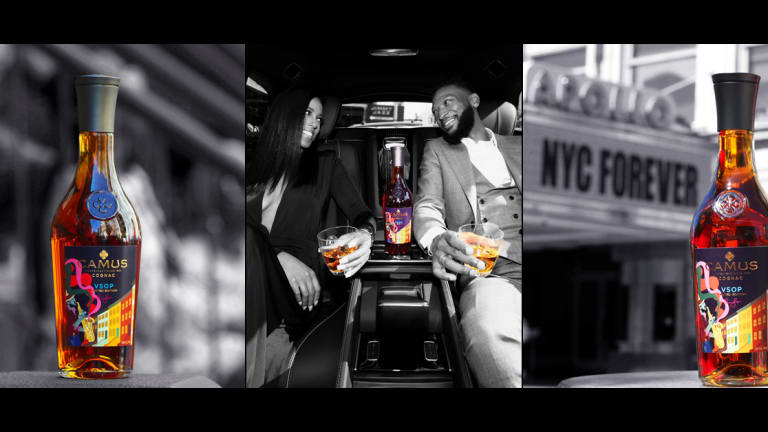 Camus Cognac Celebrates the Limited-Edition VSOP Bottle That Spotlights Harlem
Camus Cognac spotlighted its Harlem-inspired VSOP bottle with a cocktail party that celebrated the NYC neighborhood that has grown into a culture.
On December 1st, UPTOWN had the pleasure of attending Camus Cognac's unveiling at The Cecil Steakhouse of the limited-edition VSOP bottle that spotlights Harlem's icon status as a neighborhood and culture of New York City.
The event was Harlem, Harlem, and more Harlem! Most importantly, Camus commissioned local artist and illustrator Nick Low to design the limited-edition VSOP bottle. Low said in a video during the event that he was inspired by the "dynamic cubism" of Jacob Lawrence's art when designing the label. The inspiration is certainly evident with Low's layering of colorful shapes to depict a cool cat playing the sax with music notes of smoke billowing in front of the vibrantly hued brownstones in the background. The Camus Cognac VSOP bottle with its seemingly three-dimensional label is a work of art that deserves a permanent position on the bar, even if you have to refill it with more Camus at some point. And there's a high probability of that because Camus is known as the most aromatic cognac in the world, as a result of its floral and tropical fruit notes. However, its taste profile is the perfect combination of floral, spicy fruity, and woody.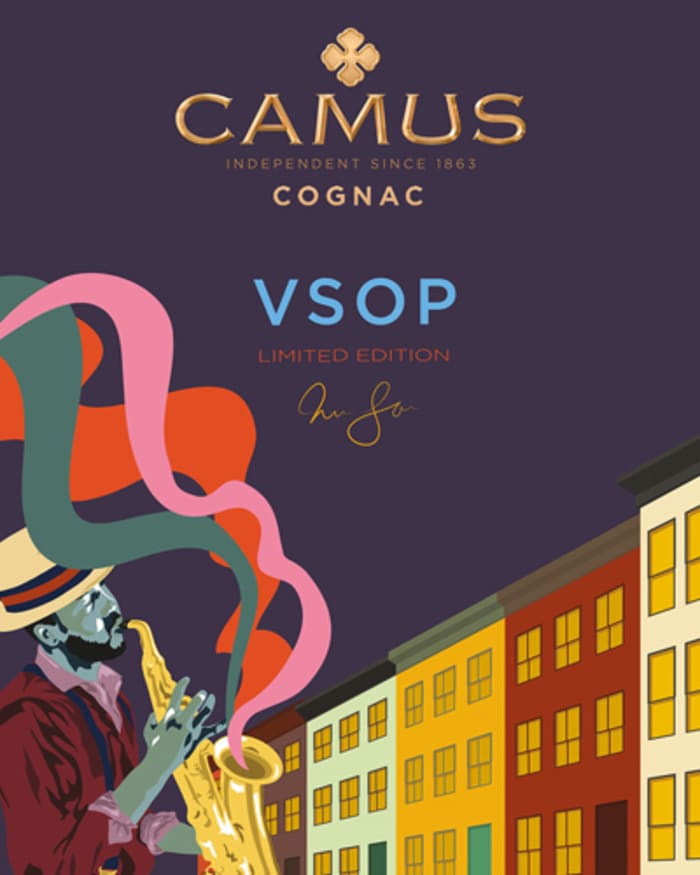 About 75 guests, including local business owners, restaurateurs, community advocates, entertainers, and Harlem socialites, put on their finest cocktail attire for the release event that The Queen of Hospitality Tren'ness Woods-Black, granddaughter of the late restaurateur Sylvia Woods, and Harlem Ambassador Musa Jackson hosted. Guests were welcomed with The Camus Renaissance 125, which is a play on the classic French 75 cocktail. Throughout the event space, there were drink stations serving either The Queen of Hospitality (a variation of the classic sidecar remixed with Yuzu and Creme de Pêche, served in a branded cocktail coupe), The Camus Harlem Ambassador (a non-traditional mule laced with fall harvest flavors of ginger, apple cider, and cinnamon, served in copper branded mug), or The Camus Dapper (Camus VSOP served neat).
Woods-Black and Jackson had a chemistry on stage that was just as electrifying as DJ Jon Quick's spinning. This event was the first time some of the attendees tasted Camus Cognac, so Sales Director for Camus Cognac US Daniel Tindal explained why it's a favorite among cognac drinkers. Henry Polanco, Camus New York market manager, led the guests in a toast to celebrate the limited-edition bottle and culminated in a 12-bottle parade from the back of The Cecil's dining area to the front of the stage. For the final hour of the night, Soul-Jazz violinist and vocalist Charisa the ViolinDiva entertained the revelers.
The Camus family has owned Camus Cognac and operated it in the Borderies region in Cognac for five generations since 1863. Under the tutelage of President Cyril Camus, they focus on the best quality grapes and terrior, unique distillation process, and small lightly toasted, fine-grain French barrels for aging. The Nick Low-illustrated limited-edition Camus Cognac VSOP bottle is available in Harlem at:
Uptown Wine Pantry (63 East 125th street)
La La Liquors (566 West 125th Street)
3rd Ave Wine & Liquor Supermarket (2171 3rd Ave #1; (212) 289-3322)