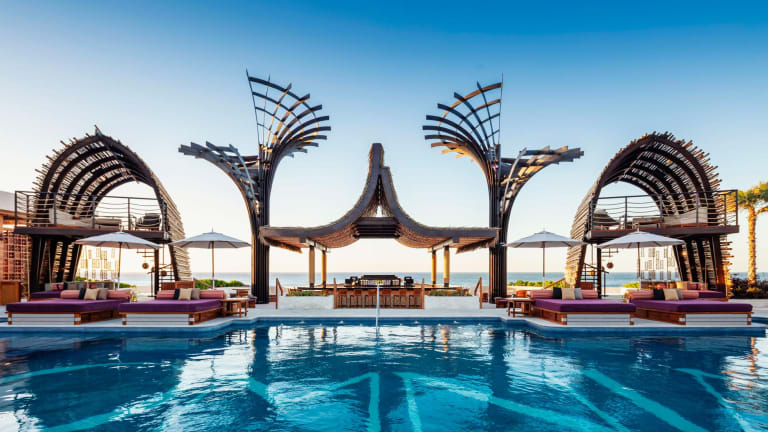 Beyond the Jazz Festival: The Life Luxe Jazz Experience
The Life Luxe Jazz Experience in Los Cabos, Mexico isn't your average jazz music festival.
Written by Lori Bryant Woolridge
The challenge with any new product is to make the familiar feel fresh. Judging by their success, Life Luxe Jazz Experience creators Dianna Clarkson and Terry Powell have met that challenge.

In 2017, they sought advice from production experts and artists, like Branford Marsalis and T.S. Monk, on how to produce a world-class concert. As jazz enthusiasts, however, they knew exactly what they wanted to make their festival stand out.

"I've been attending jazz events for decades, and basic ingredients are the same," explained Clarkson. "We're determined to provide a superior music event and vacation experience that is both luxe and all-encompassing."

The result is their jazz experience of a lifetime. The weekend-long event is held at the OMNIA Dayclub Los Cabos, which is nestled on the Sea of Cortez in the celebrity playground of Los Cabos, Mexico. Last year's inaugural weekend featured all-star musicians and held its promise to deliver top-notch music in an upscale destination. 

"In 2018 we concentrated on creating a luxurious atmosphere centered around amazing performances, " explained Powell. "This year, we've added a variety of exciting options in addition to the great music. " 

This year's must-do events include: A Dining-in-the-Dark Experience, The Spirit of Jazz Gospel Brunch, Sunset Cruise, and expert-led workshops.

Their success caught the attention of the Los Cabos government, who has named Life Luxe Jazz as its official annual jazz event. The Life Luxe Jazz team has parlayed this into Jazzing Around Los Cabos partnerships, providing guests expanded opportunities to enjoy the best of Los Cabos. 

Clarkson and Powell's commitment to create a fresh festival experience has not gone unappreciated. As one satisfied Life Luxe Jazz fan posted, "Never had a better festival time. I mean, EVER!"
For more information and tickets visit LifeLuxeJazz.com.
​
Life Luxe Jazz Experience 2019 Line Up, hosted by actor/comedian Mark Curry:
Gerald Albright
Alex Bugnon
Raul Midon
Kirk Whalum
Donnie McClurkin
Sheléa
Roy Ayers
Tom Browne
Ronnie Laws
Incognito
Pieces of a Dream
Average White Band
Ernest Quarles
Rick Palmer
Daline & Diego
Jazzing Around Cabo Events
Welcome Reception in San Miguel Square featuring Rick Palmer: The Honorable Mayor of Los Cabos, Armida Guzman, is delighted to host our official welcome reception in beautiful San Miguel Square in San Jose del Cabo. Enjoy the warmth of authentic Mexican hospitality as the city welcomes us with arms wide open. You'll be there to take in the famed art walk, do a little shopping and dancing, while experiencing the best of Mexico specialty wines, tequila and cuisine. 


Delectable Darkness: A Dining-in-the-Dark Experience to benefit Cabo Ve: 
Without your sight, your other senses are heightened. Smells, textures, and sounds become more intense, and every bite is packed with pleasure. You'll be blindfolded as you dine on a menu especially created for powerful sensory impact and safe, tidy consumption. Savor an intimate tapas feast enjoyed in DELECTABLE DARKNESS and smooth jazz.
This delicious dining-in-the-dark experience benefits the Cabo Ve (Cabo Sees), LLG's 2019 community outreach commitment to bring the gift of improved sight to hundreds of children and seniors. 


The Spirit of Jazz Gospel Brunch: Our tribute to the fusion of gospel and jazz featuring the amazing Kirk Whalum with Donnie McClurkin and the beautiful Sheléa. Top off your Life Luxe Jazz 2019 experience by dining while jazzing to these gospel greats.
Jazzing Around Cabo Sunset Cruise: Set sail and let the sun go down on another amazing Life Luxe Jazz Experience, while being serenaded by the talented likes of Ernest Quarles and Daline & Diego
Workshops: Learning is part of the Luxe Life! Get ready for a robust schedule of thought-provoking and informative sessions, designed to inform, entertain and inspire. Each workshop, conducted in a spectacular outdoor pavilion with an ocean view, is facilitated by noted experts in their field, who will give practical advice and helpful tools on issues from love and relationships to financial literacy and retirement, to curing the superwoman syndrome.
Cabo Ve: We believe that giving back is part of the luxe life. An important part of the LLJ mission is to leave a kind and caring foot print in the communities we do business. 2018's community outreach was Cabo Cares, a medical outreach effort that served over 300 residents with much needed medical attention and supplies. In 2019, we give back through Cabo Ve (Cabo Sees), a vision outreach effort with our local partners of the Lions Club International and volunteer doctors from the U.S. Delectable Darkness is also part of our fundraising efforts for Cabo Ve.