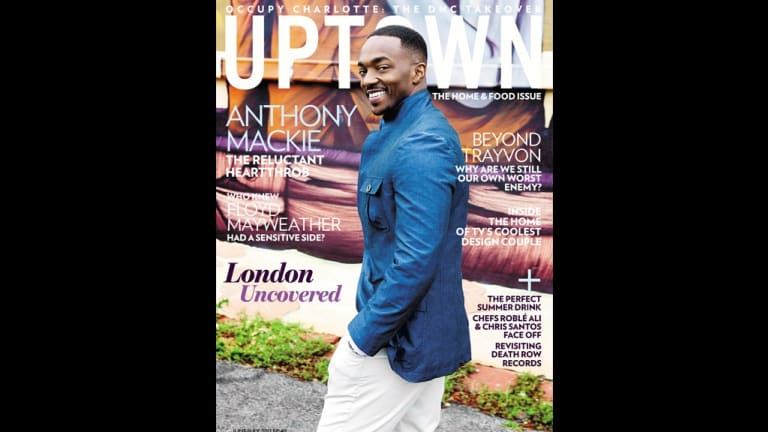 Anthony Mackie Details Long Friendship with Chadwick Boseman
There were many similarities between Anthony Mackie and Chadwick Boseman, who were colleagues and friends off the set.
Anthony Mackie, who covered UPTOWN in 2012, opened up to Extra about his friendship with Chadwick Boseman and how they kept their relationship professional on the sets of Marvel's Avengers and Captain America films. The actor who plays an android in Netflix's Outside the Wire also revealed why he hasn't watched Boseman in Ma Rainey's Black Bottom, the late actor's last film.
The two actors knew each other for more than a decade before Boseman passed away from colon cancer, Mackie explained to Extra's Nate Burleson.
"I met Chad in '98, '99, so I've known him, I knew him for a long time," Mackie said. "What was great about Chad … unlike everybody else today, Chad kept his circle close to his vest. He kept his world very private … That's one thing, one of the things, that we had in common."
Mackie, who plays Falcon in Captain America and the Avengers, also revealed that he and Boseman, who brought Black Panther to life in Captain America: Civil War, shared the ability to keep their professional lives separate from their private ones.
"Our time at work was our time at work, but our time at home was our time at home, and we didn't allow the two to cross because that's what keeps you grounded," explained Mackie. "That's what you know if you look at the relationship he had with his wife, you look at the relationship he had with his family."
The similarities between Boseman and Mackie didn't stop with their careers. Mackie also says they shared a similar "country" background.
"You know, Chad and I, we were country boys," Mackie told Burleson. "You come home and, you know, your mama make them collard greens and cornbread, ya know? She make them smothered turkey wings, some potato salad. That's home."
Mackie and Boseman also had Ma Rainey's Black Bottom in common. Mackie played Ma's nephew Sylvester in the 2003 Broadway revival of the production, whereas Boseman took on the role of Levee in the film version. Many are saying Boseman could receive a posthumous Oscar for his work in it. Despite this, Mackie says he hasn't seen the Netflix film because he isn't emotionally ready to experience it.
He explained, "Ma Rainey's Black Bottom holds a very special place … with the relationship to that … and my relationship to Chad, I haven't been able to pull myself to the point, emotionally, to be able to sit and take that experience in, because I wouldn't be able to watch it for the performance and the art; it would just be too emotional of a process for me."
Outside the Wire is Mackie's latest film release, and the action flick set in the near future is available for streaming on Netflix now. Mackie kicks ass as Leo, a top-secret android officer on a mission to stop a nuclear attack who is paired with drone pilot Harp (Damson Idris). Leo and Harp's relationship, however, isn't as simple as commander and subordinate. Watch the trailer below.