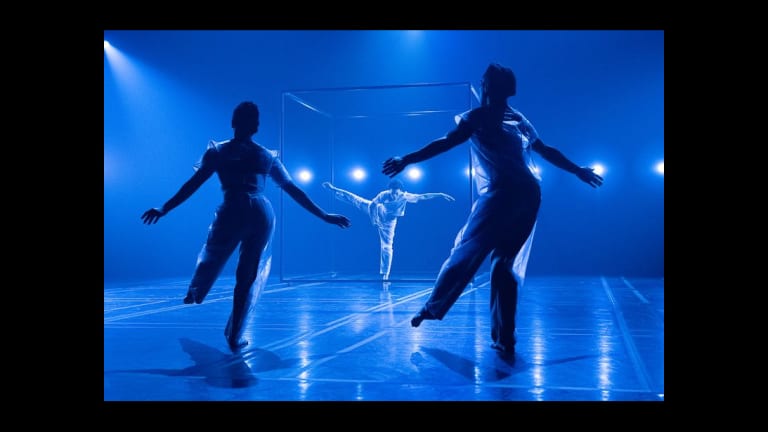 Alvin Ailey American Dance Theater Will Delight Audiences In-Person in December
The Ailey dancers are returning to the stage, after a year-plus of virtual performances, to celebrate Alvin Ailey's choreography and Robert Battle's leadership.
Alvin Ailey American Dance Theater's world renowned dancers will hit the New York City Center stage for three weeks from December 1st to 19th. Tickets start at $29!
The New York City season will include premieres, new productions, repertory favorites like Revelations, and classics like Cry, Alvin Ailey's dedication to "all Black women everywhere — especially our mothers." In fact, 2021 marks the 50th anniversary of Cry and the 10th anniversary of Robert Battle leading the Company as artistic director. The Battle 10th Anniversary Program will feature a sampling of his works, including In/Side, Ella, Takademe, and new production Unfold, which is promised to be a sensuous duet evocative of the ecstasy of Gustave Charpentier's aria "Depuis Le Jour" sung by the exceptional American soprano Leontyne Price. 
Along with celebrating the anniversary of Cry and Battle's decade of leadership, the New Works program of the season highlights two premieres Battle and Ailey Resident Choreographer Jamar Roberts adapted from video to stage:
For Four - Robert Battle's exuberant short work takes four amazing Ailey dancers and adds in Wynton Marsalis's delicious jazz score – written in 4/4 time – to capture the pent-up energy of a world cooped up during the pandemic.
Holding Space - Jamar Roberts's ensemble work is set against a backdrop of civil unrest and examines the ways in which we are taking care in this new and unprecedented terrain.
With Ailey & Ellington, the Company will also celebrate the legendary collaboration between Alvin Ailey and jazz legend Duke Ellington that was originally choreographed in 1970 for the American Ballet Theatre and represents the journey of human existence. The featured works will be Pas de Duke, Reflections in D, and The River.
There will also be #ReunitedWeDance Opening Night Gala, a season finale, All Ailey special programs, a Celebrating Jamar Roberts farewell program, and performances of Hip-Hop innovator Rennie Harris's acclaimed Lazarus.
The variety of works the acclaimed Ailey dancers will perform during the upcoming season proves the Company used its time away from the stage wisely. Plus, tickets start at just $29! If you're not going to be in New York City next month, don't fret because the Company will once again embark on a 20-city national tour that includes Washington D.C., Atlanta, Miami, Berkeley, Boston, Chicago, Los Angeles, and Newark from January to May 2022. Keep a look out for for the official National Tour 2022 dates here. Also, don't miss the must-see documentary AILEY, which premieres on January 11th on PBS as part of the American Masters series.