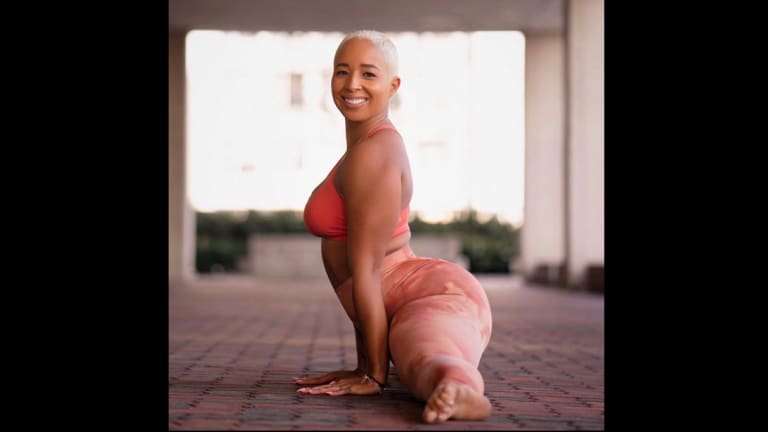 Alex Kaufmann Is Taking the Ego Out of Yoga
BahaYogi Alex Kaufmann is using her warm and charismatic spirit to build a wellness empire that is dedicated to making yoga accessible to everyone.
Alexandra "Alex" Kaufmann is a world-renowned yoga instructor, a passionate entrepreneur, and a self-love activist who has already had a meaningful impact on the yoga industry. She uses her warm, charismatic spirit to carefully curate thoughtful and effective yoga classes, as well as popular retreats, that have earned Kaufmann a loyal fan base across the world and nearly half a million followers on Instagram. With all that she has accomplished thus far, Kaufmann is well on her way to creating an extraordinary and successful yoga and wellness empire.
Born and raised in the Bahamas, Kaufmann initially intended to have a career in forensics. She dabbled a little in yoga but didn't particularly care for it. After attending the University of Toronto, she returned to the Bahamas. While working at a chiropractic office in 2013, her boss, who was a yoga teacher, suggested she give the practice another try. She listened to him and decided to give it one more chance. He introduced her to Sivananda, a slow and methodical yoga practice that includes poses to enhance flexibility and promote physical, mental, and spiritual wellbeing. To her surprise, she started to fall in love with yoga.
Kaufmann stayed consistent with her practice and began posting her yoga experience on Instagram to track her progress. She quickly gained hundreds of thousands of followers and built a devoted yoga community. In 2015, she decided to become a certified instructor after completing her training. Before she knew it, Kaufmann was teaching classes, providing private lessons, and traveling across the globe to host retreats and workshops — all with the goal of making yoga accessible to everyone and all bodies, no matter shape or size. She was also able to cultivate a considerable following and clientele base in the United States.
Kaufmann's approach to yoga is "more practice, less ego," which is also the tagline for her website, BahaYogi.com. Her current and potential students are able to keep abreast of her upcoming classes, workshops, seminars, and other events through her site. Kaufmann has hosted retreats in North America, several Caribbean countries, and Europe through her company, Vibe X Flow Retreats, which she founded in 2017. She plans to add even more locations to the mix in the future. These often sold out retreats not only give people a chance to practice yoga, but they also give students the opportunity to immerse themselves in a different locale and culture. For Kaufmann, giving people this unforgettable experience and spiritual journey is paramount. In addition to her popular retreats (with Greece coming up later in 2022), Kaufmann is planning to provide online yoga classes for beginners, as well as a curriculum for people interested in being certified as yoga instructors.
Soon, Kaufmann will also be known as a fashion designer. She is currently putting the finishing touches on a handmade eco-friendly and size-inclusive swimwear line. Her goal is to eventually create lounge wear, active wear, and of course, yoga apparel and accessories.
Kauffman is using her large platform to help make a substantial difference in the world. In 2020, during the COVID-19 pandemic and as a result of soaring food prices in the Bahamas, she started growing food in her backyard, as well as raising chickens and ducks. Shortly after, she launched Baharoots, a non-profit that focuses on the significance and necessity of self-sustainability and self-sufficiency through growing food and preserving one's land. She began selling seedlings and starter plants, as well as educating people on how to start their own garden. She hopes to eventually create an online farmer's market that will be available to her Bahamian community.
An influential yogi, teacher, entrepreneur, and body-confidence advocate, Kaufmann has successfully built a dynamic global brand that helps people tap into their authentic selves and their powerful potential on and off the mat.
 Check out information on Alex Kaufmann's upcoming yoga events below.