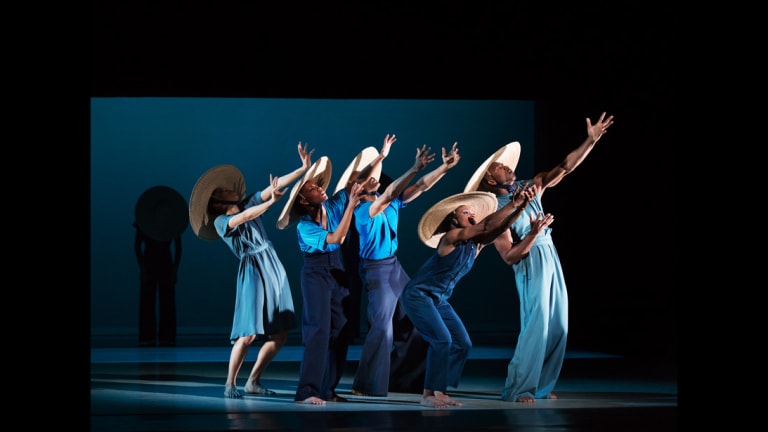 Ailey Announces New Performance Broadcasts to Honor Jazz Appreciation Month
In addition to the Ailey performance broadcasts set to music by Duke Ellington and John Coltrane, Ailey All Access is introducing new dance/fitness workshops.
In honor of Jazz Appreciation Month, Ailey All Access will release broadcasts of Alvin Ailey American Dance Theater performances set to the music of Duke Ellington and John Coltrane and will introduce new Ailey Extension dance and fitness classes this April.
Ailey All Access is an online initiative that offers free online performances, live-streamed dance classes, and other special programming. The goal is to build community and "celebrate the indomitable human spirit through dance." Alvin Ailey's classic Blues Suite is available for viewing until April 13. The performance is from the 1985 PBS Great Performances television special Three by Three and features an introduction by Alvin Ailey, himself.
To celebrate Jazz music, as well as modern dance, Ailey All Access will drop Night Creature, one of dance icon Ailey's most popular works, on the streaming platform on April 14 at 7 p.m. ET. The performance is "a bubbly champagne cocktail of a dance that perfectly fuses Alvin Ailey's buoyant choreography and Ellington's sparkling music," according to a release. Viewers can expect the dance to captivate them "with Ailey's sensual nighttime rituals, propelling the movement into a fast-paced climatic catharsis using slow jazz." On April 28 at 7 p.m. ET, All Access will make Jamar Roberts's Members Don't Get Weary available for streaming. The ballet is set to Coltrane's music and is Roberts's response "to the current social landscape in America ... an abstract look into the notion of one 'having the blues,'" according to the release.
Novices and experienced dancers alike will be able to virtually explore contemporary and traditional jazz styles through Jeffrey Bynum's Beginner Jazz Workshop ($20) on April 17 at 3:30 p.m. ET. The following Saturday, April 24, at 3:30 p.m. ET students can join In the Heights dancer Lyrik Cruz for the Latin Fusion Workshop ($25), which will blend salsa, mambo, cha cha, jazz, hip-hop, and house. According to the release, "the workshop will be focused on execution and performance quality with a touch of Latin body movement, isolations, and fancy footwork while working through Latin fusion combinations."
Whether you lace up your dancing shoes or settle in for a visual extravaganza, the offerings from Ailey All Access for Jazz Appreciation Month will be delightful.