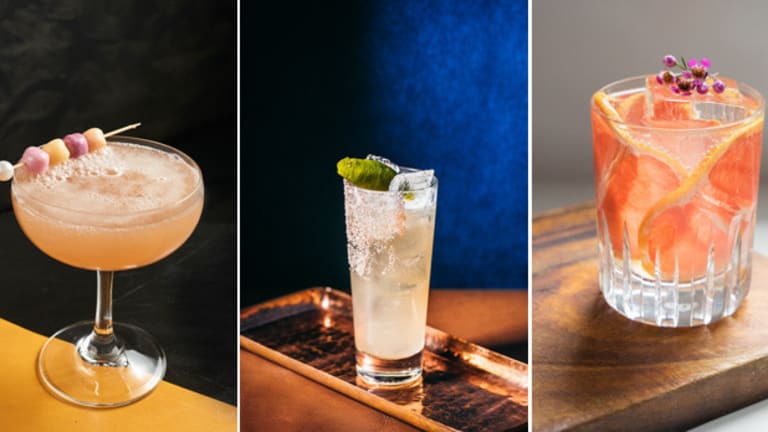 5 Cocktails to Help You Forget the Academy's Inclusivity and Diversity Problem
Here's how to celebrate all the actors who gave stellar performances on the big screen in 2019.
Cynthia Erivo (Harriet) may be the only Black actor nominated in an acting category for the 92nd Academy Awards, but that doesn't mean you can't get lit while watching the ceremony this Sunday, Feb. 9th. All you need to do is whip up one — or two or three — of the following cocktails, and you will be ready to toast all the actors who entertained or moved us in 2019, regardless of their race. But remember to be responsible while imbibing.
Winter Spiced Old Fashioned (Created by Elliott Clark)
Ingredients:
1 oz Bourbon 

1 oz Cognac VSOP

¼ oz Spiced Cooper & Thief Red Blend Wine Syrup*
Dash of Angostura bitters 

Dash of Orange bitters
Garnish: Lemon twist
Method: Combine all ingredients into a mixing glass and fill with ice. Stir to chill the cocktail, and strain into a rocks glass over ice. Garnish with a lemon twist.
*For the Cooper & Thief Red Blend Wine Syrup: In a medium saucepan, combine 1 cup of Cooper & Thief Red Blend and 1 cup of sugar. For added spice, add in broken cinnamon sticks, all spice, star anise, and cloves. Bring to a light simmer, and gently stir to dissolve the sugar. Strain out the solid and store the syrup in a glass jar in the refrigerator.
Grapefruit Collins (Created by Emily Arden Welles)
Ingredients:
2 oz Volcan de mi Tierra Blanco
¾ oz fresh lemon juice
¾ oz 1:1 simple syrup
1 oz fresh grapefruit juice
Top with soda water
Garnish: Grapefruit wedge
Method: Shake tequila, lemon juice, simple syrup, and grapefruit juice with ice. Strain into a double rocks glass over a large cube of ice. Top with soda water, and garnish with a grapefruit wedge.
El Ultimo (Available at The Print Restaurant NYC)
Ingredients:
1oz Volcan de mi Tierra Blanco
.5 oz Vida Mezcal
.5 oz Fresh lime juice
1 oz Fig leaf syrup
.5 oz Pineapple juice
Garnish: Urfa salt
Method: Hard shake all ingredients, except the Urfa salt, and pour over fresh ice into a Collins glass. Garnish with Urfa Salt on the rim of the glass.
Grapefruit Sours Sparkler (Created by Allison Kave, Butter & Scotch)
Ingredients:
1 oz HI-CHEW Mango or HI-CHEW Grapefruit infused-brandy**
4 oz sparkling wine
1 dash Angostura bitters
Method: Measure the bitters and brandy into a coupe, and top with sparkling wine.
**INFUSIONS: The infusion ratio is one piece of candy per ounce of liquor. Soak the candy until dissolved.
Maestra (Taylor Cloye's gold-winning cocktail at the 10th Annual Tales of the Cocktail Foundation LEGACY Cocktail Competition presented by Bacardí)
Ingredients:
1 ½ parts Bacardí Reserva Ocho Rum
½ part Laird's Apple Brandy
¾ Lemon juice
¾ Green apple syrup
¾ Soda water
1 Egg white
Garnish: Fresh green apple slice
Method: Combine all ingredients (except soda water) into a cocktail shaker and shake. Next add ice and shake again before straining into a coupe glass. As the cocktail settles, top with soda water and garnish with a fresh green apple slice or apple fan.
BONUS COCKTAIL
The Decisive Moment (Valentino Longo's 13thAnnual Most Imaginative Bartender award-winning cocktail)
Ingredients:
1.5 oz Bombay Sapphire Gin
0.75 oz Fortified Bergamot
1.25 oz Sherry Lactic Blend
Garnish: Coconut olive oil and coffee balsamic vinegar
Method: Combine all ingredients, except the garnish in a shaker over ice. Shake. Garnish with 2 drops of coconut olive oil and 2 drops of coffee balsamic vinegar.