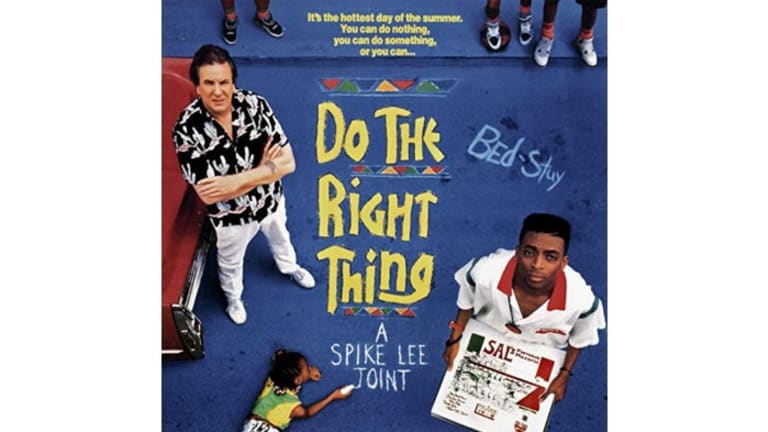 30th Anniversary Brings 'Do the Right Thing' Back to Theaters
It's been three decades, but the themes presented in Spike Lee's Do the Right Thing are remain topical today.
In honor of the 30th anniversary of Spike Lee's Do the Right Thing, Universal Pictures is re-releasing the still-relevant film with a 4K restoration in theaters beginning June 28th.
According to Deadline:
"In partnership with Universal Pictures Home Entertainment and the Criterion Collection, the re-release will include one-week engagements as well as single-day showtimes June 30 at select AMC, Regal Cinemas, Cinemark, and Alamo Drafthouse theaters. There also will be 35mm screenings at select theaters in New York, Los Angeles, Chicago, Austin and Brookline, MA."
Do the Right Thing is set during a sweltering day on a block in Brooklyn's Bedford-Stuyvesant neighborhood. Everyone, like main character Mookie (Spike Lee), Sal (Danny Aiello), Buggin Out (Giancarlo Esposito), and Pino (John Turturro), is seemingly going about their day, casually interacting when their paths cross. But tensions rise when the Black residents of the neighborhood realize they support Sal's Pizzeria as customers, but no Black notables have made Sal's Italians-only Wall of Fame. The night ends in confrontation, violence, and police brutality.
Lee was nominated for the Original Screenplay Oscar for the film, and Aiello earned a Supporting Actor nomination.
On July 23rd, Criterion Collection will release a director-approved edition of the 4K restoration on Blu-ray/DVD in celebration of the 30th anniversary.