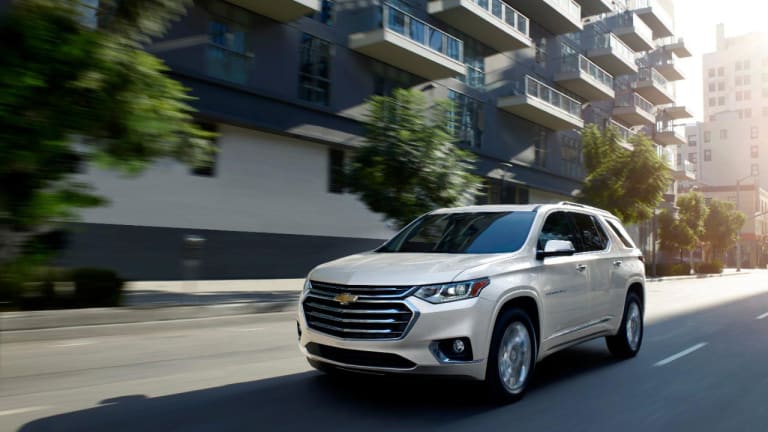 Your Family Outings, Especially with a Toddler, Deserve a Chevrolet Traverse
The Chevy Traverse keeps families safe, connected, and comfortable during long-distance trips and quick jaunts.
Written byStarr Rhett Rocque
I'm a native New York City-dweller, so taking public transportation isn't a foreign concept, but it can be a nuisance. Let's be real, all the delays and strange people in your personal space and dirty trains can quickly turn what was supposed to be a good day into a nightmare. That's why I needed a vehicle when I made a last-minute decision to take my family on one last beach day before fall arrives. We got a hold of a 2020 Chevrolet Traverse for the weekend, and did not want to let it go when it was time to return it. Seriously, returning it hurt, but such is life.
Anyway, like I said, I'm a native New Yorker, and so is my husband. We both have driver licenses, but don't drive often, and when we do have access to a vehicle, it's not usually as big as the Traverse, which is a seven-seater. Since having our now three-year-old daughter, we've become a lot more interested in driving more frequently. We have been doing a lot more road trips because you have to show your child life beyond your home or even your city, and it's also not fun to be anxious about moving around with a capricious toddler. Toddlers are prone to making messes that may need attentive cleaning, and they also have meltdowns. Those variables coupled with public transportation don't make family outings fun, especially when it comes to the judging eyes of other commuters. So, again, we have been driving a lot more often. It's just the three of us so we don't need a huge vehicle, but having the opportunity to see what's out there is nice too.
The first thing I noticed about the Traverse is that it's a sleek car. Seven-seaters are big, as we know, but the Traverse is streamlined to the point where it doesn't feel bulky. Driving it around is a smooth process and it has cool safety features. My husband is a more comfortable driver so he got to take us around for the weekend. Admittedly, the car was in teen driver mode the entire time. Teen Driver Technology is a built-in system that helps you coach new drivers, or even drivers who feel like they need a little more assurance, so that being on the road isn't a daunting exercise. It allows you to set a speed alert that notifies you if you go beyond the maximum speed limit you set. You can also set an audio limit so the radio isn't too loud and distracting. (Some of you experienced drivers probably need that too, but I digress.) The traverse also offers the industry's first and only in-vehicle report card, which allows you to actually track your progress and see where you need to improve when it comes to safety. One of my favorite features is the collision alert on the side mirrors because it makes merging a more seamless process. Sometimes, on vehicles that big (and even on smaller vehicles), it can be hard to see when you're in the clear, so I appreciate the feature. I also appreciate the parking assistance. We've all seen cars with cameras that offer parking assistance. You know how those bright yellow and orange lines pop up to show us where we are in relation to the sidewalk, right? Those never worked for me. The Traverse has that feature, but it's also paired with an aerial view of the car, which I found much more helpful when trying to parallel park. You can pick the method that works best for you.
The inside of the car feels luxurious. The leather interior is beautiful, the seats are comfy, and it's spacious enough that you could sleep inside it if you wanted. You could go camping in it for a night, or even use it as a mobile office. The seats recline, and if the vehicle is not full, you can remove the back seats so there's a lot more space for whatever you need, whether it's packing or napping.
Our beach day consisted of three adults, one infant and one toddler so that's two car seats. We had the perfect size vehicle for the car seats to co-exist with space left over. Anyone familiar with car seats knows how much space they can take up, so it was good to know that our other passengers had a bit of room. Admittedly, the back row probably wouldn't be very comfortable for someone who is tall. The auto is spacious but not that spacious, so if you have long legs, you'd be better in the front or middle seats if you're riding in a crammed Traverse. But again, if the vehicle isn't full, you could potentially sit in the back row with the middle seats removed depending on how far you want to stretch. It's customizable to your lifestyle. There are chargers located in key positions so that no smart device runs out of juice, and my favorite is the front dashboard, which can be set up to look like your phone's interface, whether you have Android or iPhone.
Our weekend with the Traverse included a beach day and a trip to Long Island to visit family, because why not? Again, it's not a size we're used to as a family, but it was a nice option to have and it actually does fit into our lifestyle. Plus, we didn't look frumpy. Don't act like that doesn't matter to you! I have a lot of conversations with parents who want to upgrade to a bigger car but they don't want to look like a stereotypical soccer mom or baseball dad! It might sound vain, but your car is an extension of who you are, and what you need. Many of us are busy people who need a smart car that keeps us connected and safe, fulfills our transport needs, that we're not embarrassed to be riding around in, and that won't break the bank. The Chevy Traverse 2020 can be that car. I don't really have any complaints about my time with the car and can't wait to take it for another spin one day, especially with fall approaching. Now that the summer is winding down, it's time to start planning apple picking excursions and weekend escapes to the country with confidence that our transportation won't let us down.