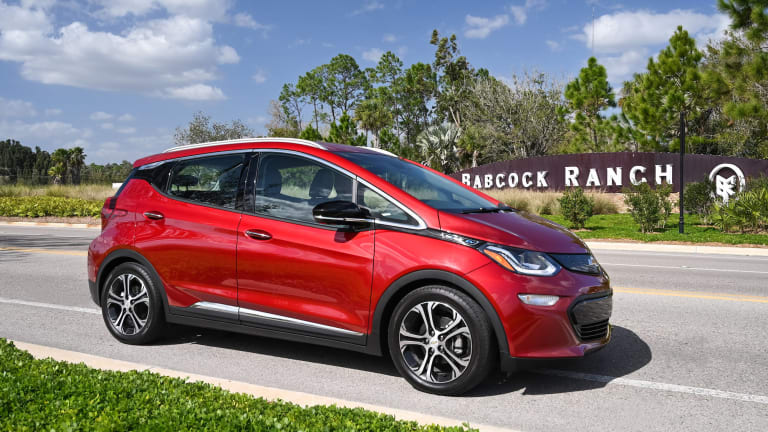 The Chevy Bolt EV is an Affordable, Accessible, and Sustainable Choice
You need a smart car as much as you need a smartphone, and the Bolt EV is a genius!
Written byStarr Rhett Rocque
Making sustainable choices in life for the sake of preserving our planet isn't as complex as it may seem. It's as easy as making everyday lifestyle choices like being conscious of where we source our food, minimizing plastic use, and thinking differently about the types of cars we drive. When it comes to sustainable cars, the 2020 Chevy Bolt EV ($29,390 net price) is an affordable and accessible choice. My husband and I teamed up with Chevrolet to explore what it would be like to incorporate the Chevy Bolt EV into our lives for a couple of days in Florida.
In my case, life with an electric car would be hard because I live in an apartment building in New York that doesn't have a garage. However, I'm open to renting an electric car for moments when we need a vehicle for adventure. If you live in a place like Florida, or someplace where you have a private space for your car (some workplaces offer electric car charging too), you can have an electrician install the 240-volt line for what's known as level two charging (you can easily purchase the plugs on Amazon). I highly recommend you consider going electric.
Our two days in Florida began in Fort Myers, where we got acquainted with our vehicles for our jaunts around the Sunshine State. My first thought when I saw the Bolt EV was that it was doable. Aesthetically, it comes in pretty colors like a vibrant orange, an electric blue, silver, and gray. The inside is spacious, sleek, and smart, and the trunk even provides cargo storage if needed (you can fold the seats down if you need more space). Think about it like this: You need a smart car as much as you need a smartphone and the Bolt EV is a genius!
Some of my favorite smart features are its 4G LTE Wi-Fi; aerial- and rear-view parking cameras; and a rear-view mirror camera that allows drivers to expand their rear view, especially in cases where the back window is blocked. Apple Carplay/Android Auto allows you to plug in your phone and see its interface on the dashboard, and you can also control the car via the myChevrolet Mobile app. This allows you to use your phone as a command center. You can start up and shut down your car, lock and unlock doors, and activate or deactivate other features with just a few swipes on your phone screen, even if you're nowhere near your car.
The Bolt EV is also really quiet. Seriously, that slight roar that you hear with most cars doesn't exist when you rev it up, but there is a safety feature that allows pedestrians to still hear the car approaching. All of these features are perfect for driving confidently, and with an EPA estimated 259-mile battery (with one overnight charge), you'll go pretty far before having to recharge.
The first leg of our journey was about an hour drive to to Babcock Ranch, the country's only sustainable town that happens to be open to everyone. While on the way there, my husband, the stronger driver of the two of us, utilized Low Mode. It's an interesting one pedal driving feature that allows you to save energy because you may be running heat, air conditioning, or playing music—all things in addition to driving that can drain your power. No worries, though, the car still goes at whatever speed you need. Actually, it's so quiet and accelerates so quickly that it's easy to go faster than you think. But back to Low Mode. If you've ever driven a golf cart then it's similar. You press your foot down on the pedal to accelerate then pick your foot up to activate the break. It takes some getting used to, but the learning curve is quick.
At Babcock Ranch we explored the beautiful solar-powered community where people's energy bills are low, even with tons of A/C blasting, and residents are content living in this community where they have everything they need from lovely homes (and apartments coming soon) to groceries to schools, to medical facilities and access to nature. We watched people boat and hike, and took our own unsuccessful stab at fishing and questioned why we live in New York again. If we hadn't gotten a tour and a full rundown of this quaint town, we would have just assumed that we were in Any Town, USA. Using solar energy makes sense and Babcock Ranch is physical proof that sustainability doesn't have to be disruptive or inconvenient.
We charged our car for about an hour and some change as we explored the community. In case you're wondering, you literally plug the car in at a charging station and leave it alone. It's that simple. Once we were done exploring, I got my chance to take the car for a whirl around the Babcock community, where I felt comfortable enough to navigate. I don't drive much and I am not comfortable behind the wheel, but the Bolt EV smart features I mentioned earlier made me feel a lot less angsty, and I learned how easy it is to maneuver.
Our Florida getaway concluded with a two-hour drive from Fort Myers to Miami, where we participated in a pizza-making class at Malibu Farm. Most of the ingredients used at Malibu Farm are organic and sourced sustainably from farms that use green practices, of course. So, again, this is another simple way to incorporate green living into your lifestyle. Simply being conscious of the practices of a business that you support is a major step forward. We had a blast with Chef Alexander Kuzin, who taught us how to make pizza from scratch with basic ingredients.
After devouring our pizzas, we gathered our things, said goodbye to our Chevy Bolt EV, and headed back to reality with a new perspective on green living. When it comes to transportation, I think about biking, walking, and carpooling all the time as ways to reduce my carbon footprint while traveling. But my first time giving an electric car a spin opened my eyes. A fully electric car is worth considering if you can factor one into your lifestyle, and you don't have to be a millionaire to have one. It's clear that Chevy designs cars meant to make our lives easier and that car can easily be the Chevy Bolt EV.