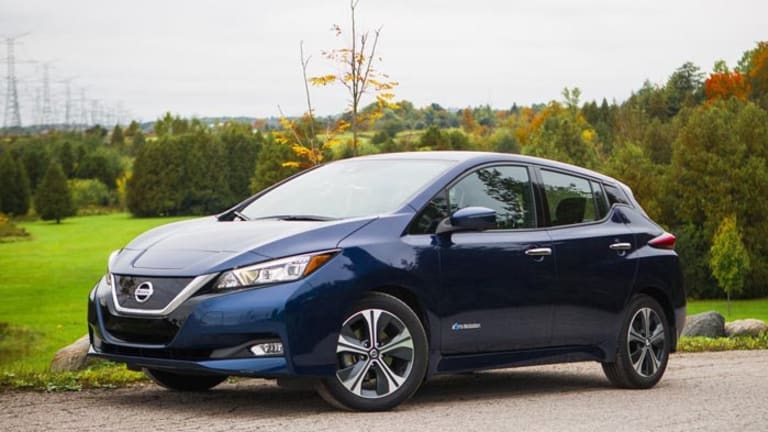 Taking a 'Stuber' Ride with the Nissan Leaf
From the big screen in the film Stuber to the streets of reality, the Nissan Leaf drives well.
​Comedian Kumail Nanjiani, of The Big Sick and HBO series Silicon Valley fame, and recently re-retired WWE wrestler-turned-actor Dave Bautista, best known on the big screen as Drax the Destroyer in The Guardian of the Galaxy franchise, aren't the only stars of Stuber. There's a stellar four-wheeled castmate not listed in the credits and that's the Nissan Leaf.
See Stu (Nanjiani) is an Uber driver and Vic (Bautista) is a police officer with a tip on the criminal who killed his partner, but can't drive as a result of Lasik eye surgery. That leads to him calling Uber and terrorizing yet befriending Stu. To get the full ride, I, not only saw the movie, but I also hopped into the 2019 Nissan Leaf SL Plus.
When I returned from Essence Festival in New Orleans, there was a Leaf waiting for me at airport parking. Immediately, I was struck by the unexpected stylishness. It has a certain charm that one doesn't expect from an electric vehicle. The trunk is surprisingly spacious, but so is the whole car. It looks like it can easily transport four people yet has room for five. All of the bells and whistles are there too: Blind-spot warning and Intelligent Forward Collision Warning on the safety front and SiriusXM Radio with Bose speakers and leather-wrapped steering wheel for comfort and flash.
Under the hood, the Leaf packs power with 214hp. Driving is smooth, and it goes really fast. There is no anxiety in traffic because the Leaf more than keeps up. Its amazing range of up to 215 miles on a full charge, think roughly 114 miles in the city and 94 on the highway in comparison to gas vehicles, eases additional concerns. And when it does get low, there are now more charging options when you're out and about.
A Leaf-owning friend schooled me on some of those options, including going to Nissan dealerships to charge for free. Just in case that's not accessible, signing up with a charging company like Chargepoint allows you to scan the card and charge almost anywhere there's a station. That means Whole Foods, movie theater, hip food courts, and more. Most have the slower charging, but some places have CHAdeMO chargers that can go from a remarkable 30 percent to 50 percent in about 12 to 15 minutes.
Now Stuber Leaf and your Leaf are not quite the same thing. In the film, the Leaf goes all day, all over L.A. with no charge. To Stu's credit, though, he does mention needing a charge and his Leaf goes through some beatings yours never will. Wallet-wise, you can scoop a pretty loaded one for $43,900. When it's all said and done, just know your Leaf will deliver a much happier car owner ending than Stuber.