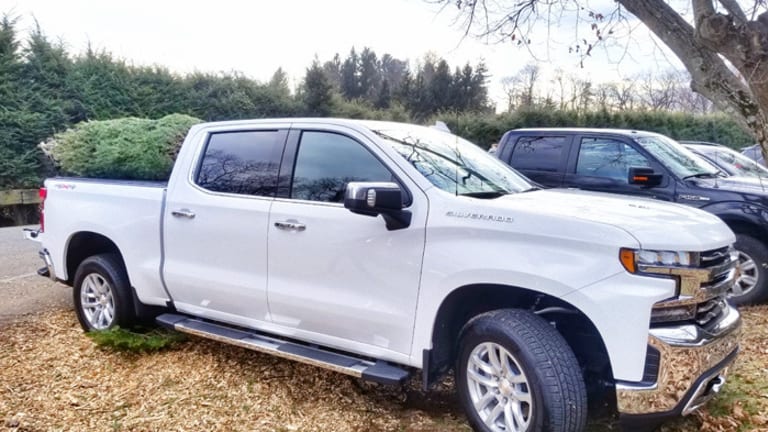 Silver(ado) Bells – A Very Chevy Christmas in NYC
A big Christmas tree requires a big truck, and the 2019 Chevy Silverado is the obvious choice for the job.
Before I moved to New York City, I rented the first floor of a Victorian house with 14-foot ceilings, and that allowed me to have a 12-foot Christmas tree. As a kid who grew up counting the days until Christmas from December 26th onward, and buying ornaments for myself instead of toys, this was a dream come true. Now, in my little Brooklyn apartment with standard ceilings and much less space overall, I'm down to a 7-foot skinny tree, and it's artificial, to guarantee it will reliably fit in my living room year after year. That means I have a lot of extra Christmas balls now and, because I'm a collector, I continue adding to my vintage collection annually, even though I have nowhere to put them. Last week, after coming home from a trip to the antique heaven of Fredericksburg, Texas, with 36 more Shiny Brites, it was finally time to take the plunge and try out a bigger, live tree.
Even though trees are sold at stands all over NYC, they're usually wrapped, and I needed to see how wide my new tree would be, so I decided to go for broke and drive to a tree farm in New Jersey to chop down my own Christmas beauty. A big tree needs a big truck, and with an enormous, covered bed and two full rows in the cab (with enough room to drag along my two helpers), the 2019 Chevy Silverado was the obvious choice for the job.
Picking up the Silverado in Manhattan, I wasn't sure I could even make the first left out of the garage onto Chelsea's tight streets without scraping the parked cars on either side, but the surround vision cameras gave me a complete view of all four sides of the truck, making it a lot easier to judge exactly how much space I had in each direction. Watching a screen to maneuver my truck felt more like playing a video game than actually driving, but it easily got me through Manhattan's overcrowded streets, tight turns and all, in a much larger vehicle than I'm used to driving anywhere.
Dixiedale Farm in Chatham, New Jersey, was only about 40 minutes from the city, and I probably spent twice as long hunting for the perfect first tree to hold my full collection. Keeping in mind my 8-foot ceilings, I aimed to find a sturdy six-footer and was drawn to the amount of visible space between branches on the blue spruces. More than an hour later, I was forced to admit that the spruces had an unusual tendency to be nearly bare at the top, so the 6-foot trees were more like 4-foot bushes with a 2-foot spire—not what I hoped for, and certainly not enough branch space for a few hundred balls.
Close to giving up and settling on a reasonably full, almost big enough spruce, I took a shortcut through the Douglas firs to another spruce field for one last review, and that's when I spotted the perfect tree. Seven-and-a-half feet tall and nearly as wide at the bottom, this tree was completely full, perfectly shaped, and oozing that pine aroma that no candle can match. Okay, they were probably all oozing that smell, but this was my cloud-parting, that's-the-one moment, and I registered the scent for the first time, sealing the deal. How did I miss it for an hour? It was a Douglas fir—not the tree I was l searching for, but the tree I needed.
Once wrapped and ready to go, it was shockingly easy to secure the bigger-than-planned tree in the back of the Silverado. Diagonally, the tree fit entirely within the truck's bed, and the 12 tie-downs (three in each corner) took the guesswork out of securing it in place. This proved a little unnecessary since I was able to enclose it completely underneath the sleek bed cover, but at least it wouldn't slide around this way.
Now fully comfortable with driving a larger vehicle, and not wanting the adventure to end just yet, I connected my phone to the Silverado's infotainment system and navigated my way to some stores in Jersey for a quick Christmas shopping trip, while I had an easy way to cart it all home. Honestly, I probably just wanted to sit in the leathery warmth of my heated seat (both the cushion and the back) just a little longer. Of course I blasted my Christmas playlist the entire time.
For years, I thought the entire ordeal of picking out a live tree and getting it to my Brooklyn apartment wouldn't be worth the struggle, but the Silverado taught me how easy it actually was with the right equipment. Zero work, all play. The hardest part, in fact, was getting the tree up my twisting staircase to the third floor, but even that wasn't so tough: A freshly-cut tree, wrapped tight in netting, is surprisingly flexible. Once inside the stand and released from its netting, my new tree suddenly seemed three times as wide as it had in the wild and, with shiny balls and a few ornaments added, it certainly did grow a few inches wider as the branches settled even further downward, but I'm not mad about it. Now I have an enormous, perfectly shaped, perfectly scented canvas for one of my favorite collections and, since it's a little bigger than I planned, I have a great excuse to pick up a few new additions this year.
​