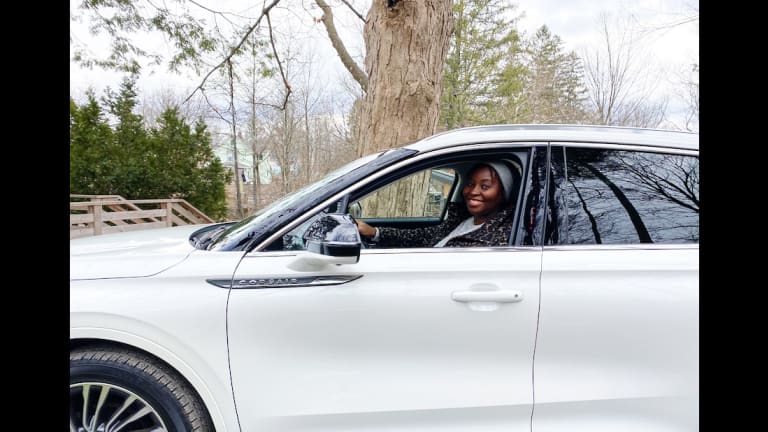 Road Tripping to Woodstock in the Lincoln Corsair ... Instead of a VW Bus
A comfortable, safe, and stylish vehicle, like the Lincoln Corsair, is all you need for a road trip to an idyllic destination.
My husband and I like to travel but quarantine got the best of us. In the years before the pandemic, we'd typically leave our daughter with one of her grandmothers then head to another country, usually warm, for a much-needed vacation. However, since the pandemic hit, we've been grounded. We cut down on how much we traveled, and when we did go somewhere, it was always a place we could travel to by car, with jaunts to Upstate New York (especially to the Hudson Valley) being our favorite choice. All you need is a car and a nice place to lay your head to make the most out of local (or local-ish) getaways.
Most recently, we decided that another Upstate New York getaway was necessary, so, we reached out to Lincoln to see if we could get a loaner vehicle (one of the perks of working in media) and headed up to Woodstock, New York — yes, that Woodstock — to check out Woodstock Way Hotel.
Lincoln let us borrow a Corsair, a luxury SUV that was comfortable enough to use for SUV camping, if we wanted to go that route. The Corsair is designed with a sleek aesthetic, safety, comfort, and luxury in mind. It's spacious like an SUV should be, but it's small enough for city-dwellers like us to feel comfortable parallel parking in tight spaces (not that that mattered where we went, but it's worth pointing out). Speaking of parking, it also has sensors and a built-in parking camera to help make that a smooth process, which made me feel good because my driving — and subsequently my parking — is rusty. I suspect there might be a lot of people like me out there who might need to work on their driving. Again, I'm a city girl and don't own a car so I haven't actually driven in a while.
Anyway, as I said, the Corsair could have been a trip on its own. I wouldn't have been mad if we did a day trip and decided to stay overnight in the SUV. I appreciated the noise control too. The inside of the auto is sealed, making it feel like you're in your own world, but the Corsair's safety features allow you to remain focused on what's happening on the road. Also, the sound experience in regards to the vehicle's prompts are nice, and they're courtesy of the Detroit Symphony Orchestra. And finally, the seat comfort was a favorite. This might be TMI but I deal with coccyx pain (as most mothers probably have at some point). Basically, if I sit on a firm surface for too long the pain starts to kick in. Usually, when I travel long distances, no matter what the mode of transportation is, I have to take an extra seat cushion with me. I forgot to bring my cushion on this trip, but I surprisingly didn't experience any pain because the seat cushion was sufficient. So, that is a plus and a testament to the Corsair's comfort.
As far as the actual hotel, Woodstock Way, it was delightful. It's a rustic but contemporary hideaway near the Catskills. It's perched on a babbling brook and surrounded by nature, but it's not that hidden away. What I mean is, once you pull into the hotel community — it's made up of a cluster of different sized rooms that feel more like cabins — you are in a private universe. It's cozy and contained. It feels isolated but people aren't far away, which actually brings me to a downside. The walls are thin so you can hear everything people in the next room do. Everything. The room adjacent to mine was empty for most of our trip until the last couple of days.
It's also situated alongside a main road, and several shops and restaurants are literally a five-minute walk away. You can have Thai food, pizza, sandwiches, and American cuisine easily. There are independently owned vintage shops, clothing shops, and souvenir shops that have tons of "make peace not war" type T-shirts, mugs, and other memorabilia (because Woodstock, duh). You can hike or walk around and explore the area, or stay in your room and read or watch TV. You can also request a firepit and sit outside in front of the waterfall at the brook.
In these COVID times, however, most eateries probably won't deliver and the stores, in general, are open fewer hours than they used to be. You're not going to get room service at the Woodstock Way, and you have to request cleaning service. Again, all of these measures are in place as a way to minimize contact.
The room I stayed in was a junior suite, which was a medium-sized room that also felt like a cabin. It came with a king-sized bed, a couch, a TV, a table, mini-fridge, and some chic decorations, including a small selection of books, which added a nice touch. After four days and three nights, we were refreshed, recharged, and ready to tackle life back in the busy city two hours away. Woodstock Way is a lovely getaway option perfect for any season and for the type of travelers who want to be low-key or prefer a more self-sufficient hotel stay. It's the type of place you will remember and will probably want to visit again.