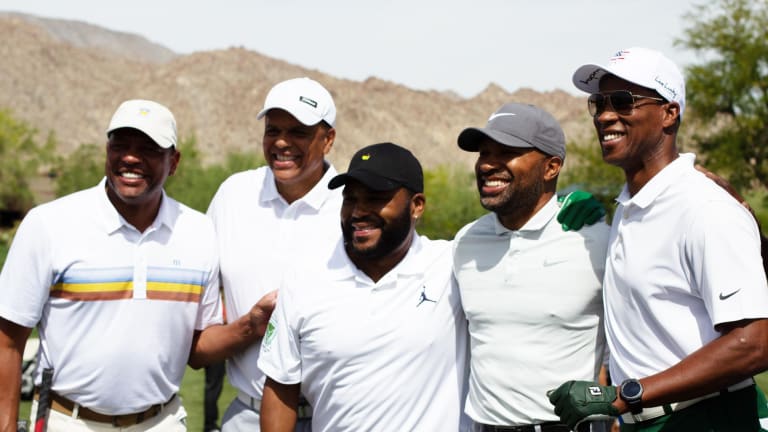 How Lexus is Changing the Faces of Golf
With its partnership with the APGA, luxury brand Lexus remains yards ahead in its support of diversity in golf.
Written by William I. Dawson
On a blindingly sunny afternoon in mid-May, an eclectic group converged on the BIGHORN Golf Club in Palm Desert, California. They were there to support the Third Annual Anthony Anderson Celebrity Golf Classic (AACGC). A look around the room revealed a group of A-list heavyweights, including sports Hall of Famers James Worthy, Dave Winfield, Ozzie Smith, and Norm Nixon, and legendary entertainer Smokey Robinson, and the Classic's defending champion, actor Glynn Turman. What stood out most about the crowd, besides its outsized talent, was just how diverse it was. It wasn't long ago that most of those in attendance wouldn't be interested in golf, let alone allowed to play on private courses such as BIGHORN. However, two decades ago, with the emergence of Tiger Woods, African Americans have taken to the links in record numbers. Anthony Anderson's event is just one of many where folks come to commiserate, network, and sharpen their golf skills, making the once elitist sport that much more accessible.
Lexus, now in its third year as the presenting sponsor of the AACGC, has had a long-standing relationship with golf, partnering with a roster of professional golfers, most of whom are white. Now, the luxury brand is expanding its efforts of inclusion and opportunity by committing to the sponsorship of different celebrity tournaments throughout the year, including Anderson's.
According to Al Smith, Jr., group vice president and chief social innovation officer for Toyota Motor North America, the bottom line is that diversity is what is most necessary in all areas, including golf. "It introduces levels of creativity, and provides opportunities across a broader spectrum," he says about the sport. "Seeing players that look like you goes a long way to embracing a sport."
Smith, who is African-American and has been with Toyota and Lexus for 29 years, grew up seeing a limited number of golfers of color on the professional tour. "Most African Americans associated with the sport weren't even allowed to play," Smith explained. "They were caddies, and learned how to play while supporting their white golfers. The only time they were able to play was when course play was slow."
Even though times have changed, and Tiger Woods has changed how we watch and embrace the sport, Smith argues, there still haven't been many golfers that look like him on the professional tour. "Most of the professional golfers Lexus has sponsored have been white, with the exception being veterans Charlie Sifford and Lee Elder," he recalls. "So expanding our reach and introducing that next generation to the sport is imperative."
"Golf has historically been known as an extracurricular activity," says entertainer and media magnate Steve Harvey, who will be hosting his own invitational tournament this spring in Atlanta, with Lexus serving as sponsor. "Our young people want equality and a chance to prove they are worthy and capable to show up on the world's largest stages," said Harvey. "Youth cannot be what they cannot see. Therefore, increased participation displays the possibility."
Two years ago, Lexus solidified a partnership with the Advocates Pro Golf Association (APGA), whose players are mostly young African Americans and whose mission is to bring greater diversity to the game of golf by encouraging African Americans and other minorities for careers in golf through professional tournaments, career development, and mentoring sessions.
Kenneth Bentley, APGA president and CEO, applauds Lexus's commitment to being game changers. "Lexus has been at the forefront of diversity for many, many years," he stated emphatically. "With this partnership, they've enabled us to take our tour to another level, expanding the number of tournaments we're able to host each year. We've also been able to introduce the game to hundreds of young people across the country, many of whom have never held a golf club before." The former Nestle USA executive is proud of the work the non-profit arm of the APGA is doing as well. "Through our Advocates Foundation, we've been able to provide thousands of dollars of scholarships for young people, talking to them about careers and introducing them to a sport that they can play for a lifetime."
"How can you get a true representation of one of the greatest sports that's out there unless everybody's involved?" Anderson asked on that Sunday while looking out at a room filled with his friends, colleagues, and fellow celebrities. "It's up to us to give back and make sure people have the opportunity to play the game, to learn the game. It's not just about a sport, it's about principles of life, and about integrity and honesty. Lots of life lessons can be learned on the golf course."
Giving back is what Lexus has been doing for years, and by supporting more golf tournaments throughout the summer, including tournaments headed by Harvey, My Brother's Birdies, and Cedric The Entertainer, they continue to be agents of change. All of these efforts will ensure that more rooms will look like Anderson's did on that sunny afternoon, filled with a more diverse crowd that will go a long way in helping grow the sport of golf.