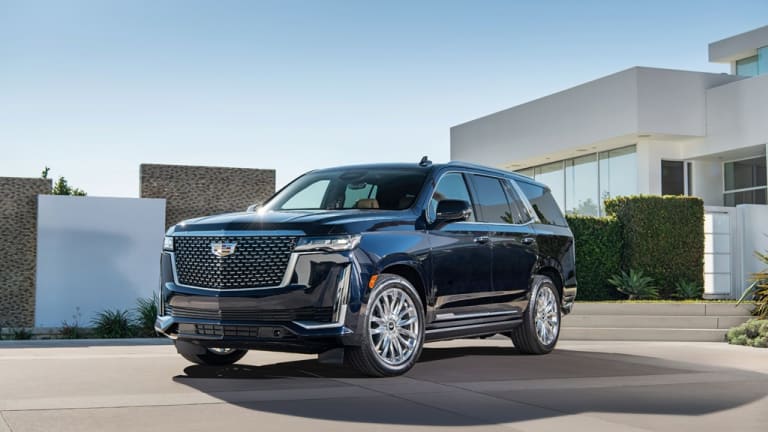 First Look: 2021 Cadillac Escalade
The all-new 2021 Cadillac Escalade is Regina King-approved. Get to know the largest luxury SUV on the road.
Written by Ronda Racha Penrice
Regina King never steers us wrong. As the Cadillac ambassador, the double Emmy and Oscar winner is proving that to be true all over again. The beloved King, who makes her feature directorial debut with One Night in Miami in theaters Christmas Day and on Amazon Prime Video January 15, currently has commercials driving the all-new 2021 Cadillac Escalade in and around LA, including her Boyz-N-the-Hood stomping grounds or just plain ole South Central LA. There's a moment in the spot she directs, of course, when she's cruising, takes her hands off the wheel and oh so subtly pops her collar.
As the 2021 Cadillac Escalade continues to trickle into dealerships, I was fortunate to get a sneak first drive myself. In these COVID-safe times, that means the vehicle was dropped off to my Atlanta home for a mere 36-hours, and, sadly, that includes sleeping hours. With such limited time, I decided to pick up a friend, masked-up of course, from her staycation at Le Méridien Atlanta Perimeter and head an hour north to Montaluce Winery for al fresco dining on their patio.
My friend was immediately in awe of the new Escalade's size. It's no stretch to say that the Escalade might just be the largest luxury SUV on the road. Inside, the Escalade doesn't quit either. Leather seats are of the highest quality and very comfy too. Other notable features include the impressive wood trim, plus the buttons are fancy too. The biggest news is the first in class, curved 38 diagonal inches of OLED screens. It truly is a seamless experience that you never knew you needed until now. On top of that, the picture pixel density is twice that of a 4K TV!! Sound is also unrivaled here, with the Escalade integrating 36 AKG speakers for the first-time ever. AKG, found in Vienna, Austria over 70 years ago, has long been an industry leader in sound, even receiving a Grammy for its technical innovations in 2010. So please believe the sound is second to absolutely none. Music and talk radio selections sounded like in-person presences instead of those filtered through a speaker.
Driving to Montaluce was a breeze. You would expect for a ride as imposing as this one to feel cumbersome, but quite the opposite proved true; the all-new Escalade handles with ease. Behind the wheel, there was no bulky feel. My friend marveled at how towering the vehicle was. She was especially taken by being able to see so much of the road and its occupants from her passenger seat. "This guy is texting," she remarked as we drove.
Navigating narrow country roads was no worry. Neither were the much bigger highways. Arriving at Montaluce is always a marvel, as hardly anyone expects to uncover a Tuscan-esque winery in the middle of the country, let alone in Georgia! Dinner began with a soup of the day ending with a healthy serving of shrimp étouffée. The drive back in darkness was not as scary as it might have been in a less formidable vehicle.
With my time with the Escalade dwindling, I decided to visit The Beacon in my old Grant Park stomping grounds. It was too early for anything to open, but I did find photo ops for the Escalade. When I had to turn it over, it was bittersweet. But I am excited to drive it again in 2021 and for much longer than 36 hours!