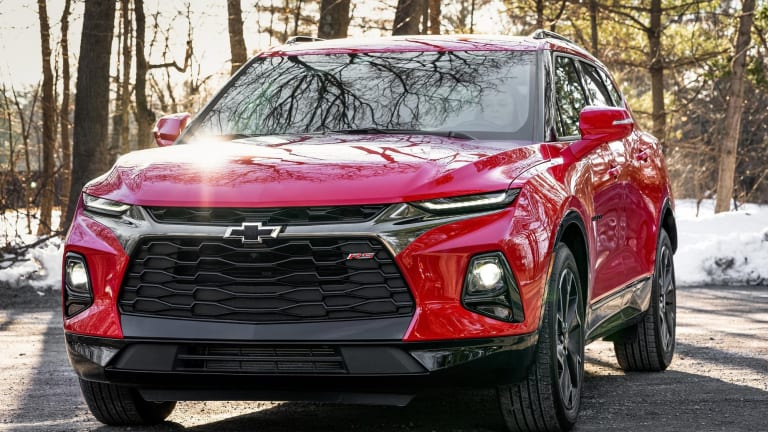 Escaping to Hudson Valley in the 2019 Chevy Blazer
The 2019 Chevy Blazer has the look and feel of a luxury car, and the function and space a growing family requires.
Written byStarr Rhett Rocque
I love to travel but I never imagined that I'd ever find myself in the Hudson Valley exploring the concepts of form and function with Chevy Blazer. Here's the deal, I was born and raised in New York City. Growing up, I traveled a fair amount, usually to other states and other countries, but never really considered Hudson Valley, a destination that's right in my backyard. The only times I ever really ventured to that region was for apple picking at Fishkill Farms, and that was a shortsighted mistake.
My weekend with Chevy was all about how we millennials like things to be sleek and functional for our busy yet stylish lives. Let's face it, Instagram and Pinterest play important roles in how meticulous we can be when it comes to aesthetics, and there's also function. In the age of smartphones that keep getting smarter, we need that same energy for all of our gadgets, including our cars, and that's where the 2019 Chevy Blazer comes in. This is not the boxy masculine truck your cowboy uncle or tough-guy father used to drive in the 1980s and '90s. This car is for us.
I am a Brooklynite, wife, mother of a toddler, a sneakerhead, avid traveler, and streetwear enthusiast. I was recently part of a thread in one of my mommy groups where some mommies were lamenting about having to upgrade to bigger cars. The main no-nos were a minivan or a frumpy SUV. The general consensus was that moms of today need a car that is big enough to support a family's needs in terms of space, but cool enough that we'd actually want to be caught driving it alone, while blasting classic Three Six Mafia or whatever ratchet music floats your boat. The Chevy Blazer is that car. It's not just family-friendly. It has two rows, it's mid-sized, and it's streamlined enough for anyone who wants the look and feel of a luxury car, but functional enough for people who are concerned with space, safety, and of course, how well the car runs. There are three versions, which the brand aptly refers to as personalities, that fit different stylistic needs. There's the sporty Blazer RS, the up-level Blazer Premier, and the signature Blazer. Admittedly, I've been nudging my husband toward us getting a car but at the same time, I haven't driven in nearly a decade (so he took the wheel the entire weekend and my play was relegated to a quick parking lot moment). Ridiculous, I know, but we'll get back to that.
Our weekend in the Hudson Valley started on a Friday morning in a garage in Manhattan on a beautiful May day (the weather actually cooperated that weekend). My hubby isn't used to driving SUVs and was nervous about the blind spots, but he got comfortable quickly because the Chevy Blazer is more of a crossover. It's part car, part SUV, and you can feel that in how it moves and functions. Our vehicle was the Blazer RS. We immediately noticed and became enamored by the interface on the dashboard that allows you to plug your phone in for charging and to display your touch screen apps in a way that mimics your phone. We prefer to use Waze as our navigation tool, but it was also nice knowing that OnStar was available. It's so available that had we decided we needed a cake break on our two-hour drive, we would have been able to pull up a live person to navigate us toward a bakery. We didn't need that, because -- random -- so we cruised up north in no time. I connected to the WiFi and knocked out some proofreading I needed to do in Google Docs (this vehicle could actually high-key make for a good mobile office), and we arrived at Poughkeepsie's Culinary Institute of America for lunch quickly. We enjoyed a delicious multi-course lunch prepared by students, but overseen by experts, and we even chatted with Chef Bruce Mattel and Top Chef's Kwame Onwuachi about the inspiration for their respective culinary styles, and even learned about a 10-step process for making the perfect baked potato. Part of the process includes choosing Idaho potatoes, letting them sit out overnight so that the starches turn into sugar for better taste and texture, or it might be the other way around. I'd be lying if I tried to pretend that I remembered everything, but the point is, good product, even food, takes a lot of thinking and attention to detail.
That brings me to later on that night. After we checked into the Roundhouse, an urbane warehouse turned hotel, and got settled into our chic modern yet minimal room. We met in the parking lot after some downtime, just before dinner at the hotel. We got to see each version of the car in all their glory and colors and to meet Charles Muse, the 28-year-old genius who was the lead designer of the car of honor. After confronting what the heck I've been doing with my own life all these years, it was really inspiring and informative to talk to Muse about how he got into aerodynamic engineering and ended up working with Chevy. Hint: He was really into cars as a kid, so go ahead and encourage your little Hot Wheels and Thomas the Engine enthusiasts to be great. He then explained how the cool version of the Chevy Blazer came to be (in case you didn't know, it can take about four years for a car to go from concept to an actual vehicle so this is not a game) and described it perfectly as a car that could satisfy the everyday person who just wants something straightforward, but also that the techie—you know, the person who needs their WIFI to have WIFI—would love. This car is the closest thing to Kitt that it gets. I'm somewhere in between techie and basic.
By that point in our trip, I had fallen in love with the fact that there was a tiny little light built into the bottom right of the auto's side mirrors, which let you know whether another vehicle was in your space, so you'd think twice about switching lanes too soon. When I was an active driver, that was one of things that scared me about being on the road. Blind spots are a beast! But intuitive safety features are king. You can even set a specific distance that you're comfortable with when it comes to cars being in your range. If you're too close for comfort your car will let you know depending on your setting. There's also the trunk that comes with an adjustable bar so that you can keep your cargo from tumbling around. See, I'm simple when it comes to features that I like, but we didn't even scratch the surface of everything this car can do.
On Saturday morning, hubby and I did our own thing for a bit. We took our silver Premier for an hour drive to the Storm King Art Center, checked out funky sculptures, took cool pics, and then hopped back in our vehicle to meet the rest of the crew at Hudson Valley Pottery. Interestingly enough, cars begin as clay models. We talked to our art instructors about how to create efficient mugs from scratch and proceeded to make our own tailored to what we like in terms of size, artwork, and color. We're no aerodynamic engineers, but it's safe the say that most people in the group walked away with a mug they are proud of. That's probably how Charles felt all weekend watching us gush over his wily creations.
Saturday ended with a nightcap at Chef Brandon Walker's Essie's, a casual American restaurant inspired by elements of Walker's Caribbean and Black-American roots. After gorging on an obscene amount of jerk ribs, fried grits, bucatini ,and anything else that came my way, because it was all food-coma-inducingly delicious, Walker (who is also a Culinary Institute graduate) explained how his goal was to bring a piece of his hometown Brooklyn with him up north. Mission accomplished. Not only was the food delicious, but it's also my new motivation to visit Poughkeepsie more often. We didn't drive that night, we had shuttle service, so we were able to indulge in all the sorrel rum punches, smoked orange whiskey sours, and cucumber-mint vodka sours that we wanted. Highly recommended, within reason, of course.
Our snazzy weekend in the Hudson Valley concluded with a buffet-style breakfast at the Roundhouse followed by a trip to Glazed Over Donuts before we left Beacon. Best donuts ever! Seriously. We then drove to Woodbury Common Premium Outlets, where we walked some of the sugar off, and finally headed back to New York City with a new outlook on Upstate New York and how having an auto that matches our stylish personality profiles can help us escape the city much more often. We've ignored this worthy destination for way too long. Highly recommended for a weekend jaunt, especially if you need some respite from city life!