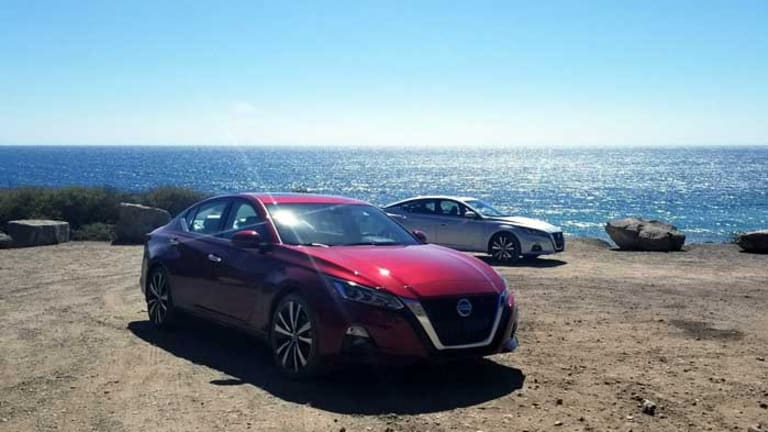 Cherishing the All-New 2019 Nissan Altima in Santa Barbara and Beyond
Santa Barbara proved a great destination to meet and experience the all-new 2019 Nissan Altima.
Now that the dust has settled and we've really dug our heels into 2019, it's time to get down to business. And some of that business, for some of us, includes finding a new car. To that end, the Nissan Altima warrants some serious consideration.
The Altima has essentially been with us since 1992, but only truly mid-size since 2001. About 10 years ago, it got a facelift. And for almost the last six years, it has been riding strong. But 2019 is proof that good things can get even better and that is exactly what Nissan is banking on with its all-new Altima.
To test it out, yours truly traveled to bucket-list destination Santa Barbara around the end of last September. As if Santa Barbara were not enough of a sell, they kicked in a lot of Malibu too! Little did any of us know what kinds of destruction would soon come to the area; that's what makes this experience all the more memorable.
Now getting to Santa Barbara from Atlanta isn't that easy if you are traveling on Delta Airlines. For me, it required traveling to LAX and boarding a United Airlines flight. Finding the flight while not leaving the airport literally took me close to a solid hour of walking. Seriously, they can plan a 5K there.
Slightly fitter, I got to Santa Barbara and it was glorious. The skies seemed to open up and sing. From the airport, we were shuttled to the posh Hotel Californian. I got my first glimpse of the new Altima across the street. On first glance, I noticed that it now sits a little lower than we're used to and has a more sporty appeal.
I decompressed a little in my gorgeous room. I tell you, California just has a flair for relaxing elegance. But it was only going to get better. Dinner was at a nearby mansion, as in they had a full-on polo field-type of mansion. The always fun Jawn Murray was on this journey, as well, so he and I had good cheer handled. Nissan had everything else. Food was family-style and great. And to remind us of the reason, the all-new Altima was outside along with a throwback version.
The next morning was the breakfast presentation. Traditionally, couples and families have navigated most to the Altima. With this new design, however, I suspect lots more single women especially will be drawn to it because it's very stylish. And on top of that, it seems very dependable and who doesn't love that? It's called Nissan Intelligent Driving. That means the Altima displays the speed limit, automatically brakes for pedestrians, has automatic rear braking, and more. In fact, that also includes Nissan's ProPilot Assist, which is akin to cruise control but really assists the driver during stressful rush-hour driving.
After breakfast, it was time to hit the road. Naturally Jawn and I were driving partners. Together we enjoyed a scenic drive that took us to La Casita Recreation Area, Topa Mountain Winery, and the Ojai Valley before breaking for lunch at 101 North Eatery and Bar in Westlake Village, near Thousand Oaks. Afterwards, we cruised through Malibu on the glorious Pacific Coast Highway, stopping at Mugu Beach where we enjoyed the heavenly goodness of McConnell's Fine Ice Creams out of Santa Barbara that has been at this since 1949.
The drive back was relaxing. The Altima handles very well and felt really at home in the land of way more expensive vehicles. Since we were in Oprah's vicinity, we decided to pop into Montecito and see what's up. Unfortunately, we didn't run into Lady O but we did peep why she calls the quaint and calm environment home.
Back at Hotel Californian, I freshened up to meet up with a fellow writer I met at Festival d'été de Québec (FEQ) or the Quebec City Summer Festival in Quebec City, Canada, where we caught Kendrick Lamar, Pink and, believe it or not, the Backstreet Boys, among others. We met across the street at Finney's, which is a craft beer hub for the area. After that, Jawn and I linked up again for dinner at Blackbird, the Hotel Californian's adjoining restaurant.
Dinner was very good. I am a fry fanatic and enjoyed the seriously good Kennebec French Fries. In case you're wondering, Kennebec is a particular variety of potato great for fries and potato chips. The beet salad and diver scallops were divine. I hung a little later than Jawn and joined the rest of our temporary crew for farewell drinks, indulging moderately with Rosemary's Baby, made with mezcal.
The next morning, I bid the Altima and the Hotel Californian adieu to head back to Atlanta. Once again I walked a 5K at LAX, but I made my flight. Sadly, since my travels to Santa Barbara and beyond, tragedy struck Malibu through devastating wildfires, with many houses and lives destroyed. In addition, a gunman killed a dozen people, most of them under age 25, at a Thousand Oaks bar quite near 101 North Eatery and Bar. Because we never know what may happen in life, we can't waste a minute. So however you choose to proceed in life, do your absolute best to enjoy it.