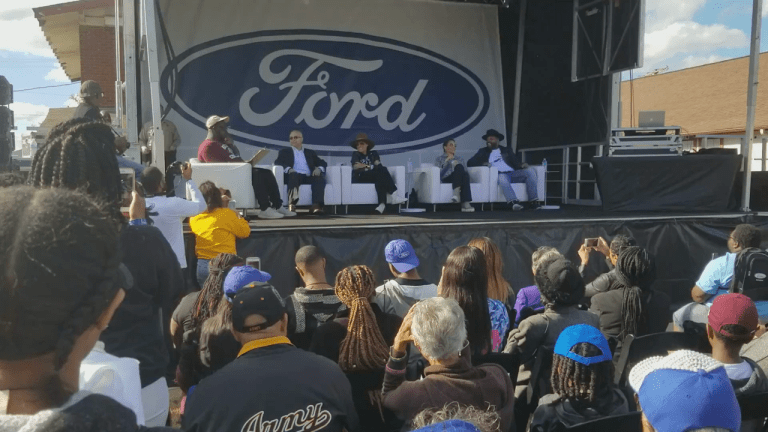 Celebrating a Huge HBCU Win with Ford and 'A Different World' Stars in Texas
A Different World All-Stars help give $100,000 to the "Ford Ultimate Homecoming Takeover" winner in Texas
Over 30 years later, A Different World, The Cosby Show spin-off originally starring Zoe Kravitz's mom Lisa Bonet, still represents for HBCUs. Thanks to syndication, entirely new generations have discovered the show and fallen in love with it just like their parents before them. The love is so deep that Ford had the brilliant idea of bringing beloved stars Kadeem "Dwayne Wayne" Hardison, Jasmine "Whitley Gilbert" Guy, Cree "Freddie Brooks" Summer, and Darryl "Ron Johnson" Bell to super cozy HBCU Southwestern Christian College in Jamie Foxx's hometown of Terrell, Texas to celebrate the school's huge Ford's Ultimate Homecoming Takeover win just days before Thanksgiving.
Students, administration, alumni, and friends took to social media and bested the competition to win an awesome $100,000 donation for their school. And thanks to Ford, represented by the always bubbly Gina Torres-Duke, a lovely group of folks representing a range of pubs from Bossip to theGrio and Ebony to XO Necole and I were there to document the occasion, with the Aloft Dallas Downtown serving as our temporary home.
The Ford Welcome Dinner with Dibrie "Dee" Guerrero, Ford multicultural communications manager, was held at the legendary Pappadeaux Seafood Kitchen. The restaurant is one of Beyoncé's faves if you didn't know. Houston is the headquarters but since Dallas isn't that far away, there are more than a few locations from which to choose. We dined at the Lombardy Lane location in a private room with Dee and Kadeem Hardison, Darryl Bell, and Cree Summer. I had the Costa Rican Mahi and Crab with a libation or two. I have a Mule problem so I gave their Blueberry Mule a try. But the real winner was Pappadeaux's signature Swampthing that some of our scribe squad put me up on. It's described as "raspberry and melon liqueurs layered with frozen Hurricane and Margarita" on the menu and it was beyond yummy.
Of course it sounds corny but the fellowship was truly the best part of the evening. As we all formally introduced ourselves in this private room filled with great photography of Black musicians, Dee shared the resilience it took for her to secure her dream job at Ford. Bringing great people together to give away lots of money sounds like a dream job to me. It was just the perfect beginning, especially when we got back to the Aloft and were gifted with "The Blacker the College the Sweeter the Knowledge" yellow sweatshirts to wear the next day.
We were up kind of early for the big day. It was super cute to see us all dressed in our sweatshirts. I tend to get a little cold so I had my black jacket on. The sprinter ride over was relatively quick. Maybe it was closer than we thought or the company was just that good. When I say Southwestern Christian College is small. It truly is, but in the best way. Before the festivities kicked off, we got to chat with our A Different World crew with Jasmine Guy now in the mix. Our conversations were crazy informative.
A lot of people don't know that Darryl Bell's dad, Travers J. Bell, Jr., with his securities firm Daniels & Bell Inc., was the first African American member of the New York Stock Exchange. That entrepreneurial spirit, Bell revealed, very much informed Ron on A Different World.
"Because of that background, I think you saw many of Ron's get-rich-quick schemes were art imitating life or the writers knowing my background and saying we should put this into his character. And then it even developed with Art Evans, who played Ron's father, about the dealership and the son going into dad's business because, before School Daze and A Different World, I had always intended on being an investment banker."
Not surprisingly Cree Summer's Freddie Brooks was also very similar to who she is and, today, she is still the free spirited soul she was on the show. Reflective of that, her daughters, who are 7 and 5, are named Brave Littlewing and Hero Peregrine. And it is because of them that she continues to support Black Colleges.
"I want to see little brown girls be engineers and doctors and teachers and all kinds of things that make this planet an equal, fair place to live," she said. "And I also think that it's imperative that we learn amongst ourselves because I think that helps with our comfort and it helps to see each other grow and change and learn."
​The positive experiences Kadeem Hardison had on A Different World, particularly behind-the-scenes, are happily found on Love Is­­__, the OWN show where his character, Norman, leads a writers room. "I think my experience on A Different World taught me the appreciation of having such a diverse cast and a female leader and the similarity with Love Is__ is we have a diverse cast and a female leader. So it feels very familiar and very safe. It feels kind of like home. The cast is so good it reminds me of these guys."
Jasmine Guy, whose Unsung Hollywood on TV One uncovered her complex emotions about her iconic Whitley Gilbert character, said that, with time, "I've learned to appreciate the character more." Guy also shared how much she changed and challenged Whitley.
"I tried to endow the character with more humanity than was actually written or asked of me. Because being funny, I knew how to make her funny. I did and, of course with the interactions with the other characters, I think we were all able to kind of humanize her and not make her quite the shallow stereotype of a typical light-skin bougie girl and I think it happened over time."
What has also happened over time is that more and more people love A Different World. When the crew hit the Ford stage outside, the crowd was enthusiastic. As they answered questions about the show and their lives now, the crowd listened intently. At the end of the session, the line outside the designated room for photos, was wrapped around the wall.
Getting snaps with the A Different World fab four wasn't the only game on campus, you could also test drive the Ford F-150 Raptor. Seriously this truck surprises in the best of ways. It has a twin turbo V6 engines and it's an off-road vehicle. And it looks so good!! Pick-ups are in and this one will definitely help convince more people to convert.
Just like cars, people need fuel and, to that end, Ford made sure we were fed by two food trucks on campus. Most of us gravitated to the Easy Slider food truck, which is one of the best in the Dallas Fort Worth area and we found out why. From the Angus beef slider, known as The Classic, to its vegan "burger," The Baby Bella, made with Portobello mushroom, everything was delicioso. And The Walls Group, the talented gospel quartet of brothers and sisters, definitely served as food to all ears.
After celebrating Ford's Ultimate Homecoming Takeover at Southwestern Christian College, the party took a break but it didn't stop. After re-charging and dressing up for a night on the town back at the Aloft, we hit the rather unusual and popular Don't Tell Supper Club. Think America's Got Talent with drinks and food until it's party time and the club takes over.
For libations, I had to try the Mole Mule, which is a chocolatey version of the drink. And, for dinner, I was all about their Contortionist, which is wild king salmon and vegetable risotto. At the table, there were also other things like Jumbo Lumb Crab Filled Eggs and Truffle Fries to sample. And through it all, a magician, aerial artist and others performed. Yeah it was very unique. And then they cleared out the tables and started a full-out party, like crazy loud music and all. An experience indeed.
Sadly it had to end and quite early too for me to make the insanely 6:30 a.m. car pickup to make my flight back to Atlanta. It may have been short but it was a fab time. Always great to see companies like Ford step up and that $100,000 will definitely "Go Further" for the current and incoming Southwestern Christian College students. And, to remember it all, I got a "The Blacker the College the Sweeter the Knowledge" sweatshirt, plus the African American College Alliance Classic 1991 Hoodie in Black. Let's support our schools!