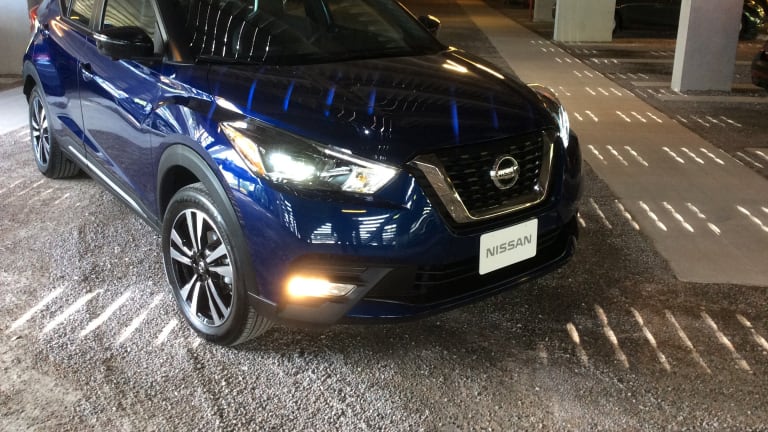 Catching an Art High with the All-New 2018 Nissan Kicks in Miami
Miami's vibrant street art and the all-new 2018 Nissan Kicks mash up well.
Millennials and Gen Zers haven't made it easy on car manufacturers. What pleased past generations just doesn't make the cut now. Their needs and wants are so different that sometimes it's just better to start from scratch, which is exactly the approach Nissan has taken with its brand-new Kicks.
The CUV segment is a scorching hot one. While it's a segment the Kia Soul has dominated for years, that doesn't mean the market is shut down. Recently, Hyundai unleased its Kona, and Ford its EcoSport. Now it's Nissan's turn.
With the Kicks, Nissan has kept its eye on a few key things -- expressive style and smart design, unexpected technology, and incredible value. And I, along with a few others, got an introduction to it all in the two best spots in Florida -- Miami and South Beach! It just doesn't get much more expressive than that.
Concern about the environment is such a Millennial and Gen Z thing, but forget about that hippie stuff from the 1960s. Sacrificing style is so not on the agenda. Nissan definitely did the Kicks right by choosing the amazing 1 Hotel South Beach, which is perhaps the best, most stylish eco-hotel in this country. But it's not just amazing for the eco-set; it kicks ass across the spectrum and proves that style and doing right by the environment is completely possible.
At the 1, my room, with its repurposed wood set off by what I call tropical or coastal white or what others label eco-chic or rustic chic, was just zen. Whoever said eco had to be cramped has clearly never visited the spacious 1. But the room alone does not a hotel make and the 1 offers so much!!
Great vegan food is super hard to come by in most places and, since I had a few hours before our welcome dinner, I was happy to try plnthouse, from celebrity plant-based chef Matthew Kenney. It is a café nestled next to the Spartan Gym, which is definitely not a hotel gym, but an elite facility for triathletes and super-serious fitness enthusiasts. Fortunately, one doesn't have to be an elite athlete or a super health enthusiast to enjoy great food that is great for you.
Of course, I wanted everything on the menu, but I opted for something light. Following the suggestion of a loyal patron, I went with the yummy Thai Paper Wraps, made with red pepper, mango, red cabbage, chili almond butter, carrots and herbs, with a tamarind dipping sauce. That, along with the clean green juice, made with kale, celery, cucumber, mint, and lemon, more than held me over.
Keeping true to its pledge to "expressive style and smart design," the Nissan Kicks team treated our crew to a night out at Wynwood Walls, which is a Miami must-visit these days. Billed as "the world's greatest outdoor street art museum," Wynwood Walls definitely revels in art highs. Because the murals change out, there's always something new to see. One of my faves for this go round is street art superstar Tristan Eaton's stunning mural of beautifully diverse female faces. It's one of the 12 murals from different artists from around the world for the 2017 Art Basel "humankind" initiative. There's also the Peter Tunney Experience and a whole lot more.
For dinner, Nissan rented out the GGA (Goldman Global Arts) Gallery. We all sat at a long table and dined family-style. Great food surrounded by art definitely got me excited to drive the Nissan Kicks the next day. But back at the hotel we didn't turn down immediately. Instead we floated up to the rooftop pool, watr, and hung out for a bit enjoying the awesome night and super great company.
Bright and early the next day we learned about the Kicks. The presentations were eye-opening actually. Apparently Millennials and Gen Zers love music way more than previous generations. Now, I am very familiar with the number of car manufacturers who have exclusive speaker deals for their vehicles but I have never quite heard them stress how essential music is. The Bose Personal Sound System provides the Kicks with "360 Degrees of Immersive Sound."
After learning a few more points regarding the intentions behind the Kicks, we got to get behind the wheel of a blue one. I paired up with Ale Sharpton, as he is better known thanks to his beer acumen. This, of course, was a dry run as it should be. As much as we tried to stick to the assigned route, it just proved hard. Reading directions just isn't my forte. Still there's no going wrong in South Beach, especially when the weather is glorious.
Our first stop was meeting up with StreetWaves, a surf program for kids. There was no surfing but there was a wave of goodness as Nissan gifted the kids with short boards all stored in a cute orange Kicks! From there, we hit the Perez Art Museum for a catered lunch at Verde, the museum's waterfront restaurant boasting views of Biscayne Bay. In addition to the good food, there's some pretty snazzy outdoor art at the Perez and I couldn't resist snapping it.
I took the wheel and, from the Perez, we zoomed back to Wynwood to hit, what else, a "kicks" shop. Sneak Attack had some really nice sneakers for dudes. But of course the kicks I absolutely loved were at least a stack. Ale fared better than I in the kicks department but I did score some cool hoodies.
Sneak Attack was my last stop on the tour. Back at the 1, I gathered my things and headed to the airport. It was World Cup time, so as I headed to my gate, there were lots of folks gathered in various spots watching soccer, which I thought was a very fitting end to my Nissan Kicks adventures.
Right now choose your Kicks at the S, SV, SR, or SR with Premium Package level, at prices ranging from a mere $17,990 and topping out at $21,290. MPG clocks in at 31 mpg in the city and 36 on the highway. And, even better, there are a lot of cool colors from which to choose.