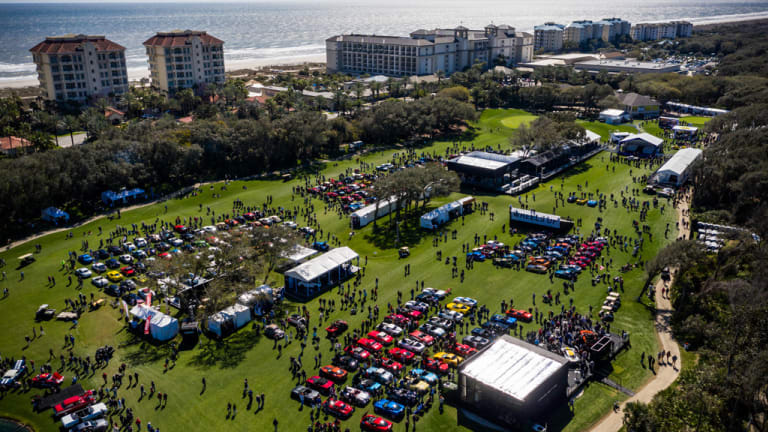 Cadillac Presents the Amelia Island Concours d'Elegance
Before COVID-19 interrupted our flow, Cadillac invited UPTOWN to experience the Amelia Island Concours d'Elegance.
In a coronavirus world, it's hard to imagine a time when the global pandemic didn't rule our lives. But just a few weeks ago, I attended the Amelia Island Concours d'Elegance near Jacksonville, Florida to experience amazing vintage and classic cars, as well as a few new ones.
If you don't exactly know what a Concours d'Elegance is, our good friends at Wikipedia explain it as a "competition of elegance" that comes from France. It's basically a parade of vintage and classic cars with prizes for the cleanest rides. Way back in 17th-Century France, aristocrats showed off their horse-drawn carriages in Paris parks, especially during summer and holiday weekends. If you're picturing that parade of cars scene in Boyz n the Hood, you're not far off!
Since it's been about eight years since I've been to Amelia Island, I remembered it a bit differently. Even though it has attracted a few more retail residents than before, it does retain its charm. The Concours makes The Ritz-Carlton Amelia Island its home base, and once we arrived around the Ritz, the environment was fantastically familiar. The property was as beautiful as ever. I especially dug the pool area, even if I couldn't fully enjoy it. My homegirl and I found the double beds comfy, and the room was spacious enough that we coexisted well.
Now I'd be less than truthful if I didn't say one of my favorite spots during the Concours was the press room. There I got my directives and something yummy for my tummy. I ate so many of the shrimp salad in snowflake rolls one day that I thought I might burst. Another day, the mango yogurt mousse almost took me out. But I digress.
Since I love cars and am a history buff, being around vintage vehicles was sort of magical. Many of the attendees were rightfully excited to celebrate Roger Penske, the iconic race car driver and sports-racing business trailblazer, especially during the 25th anniversary of the Amelia Island Concours d'Elegance. I was also amazed by the incredible condition of so many of the cars. Yes, many of the folks who own these works of art are really wealthy, but there are more than enough somewhat regular folks who have just kept their cars in great shape.
Honestly, I didn't expect that I would see so many Cadillacs. There wasn't a car lot of them, of course, but enough to be noticed. I was able to spy Caddies from 1941, 1947, 1953, and 1958 during the general festivities, from Friday through Sunday. On top of that, I personally got to witness RM Sotheby's auction a 1931 Cadillac V-8 Convertible Coupe, a 1914 Cadillac Four Five-Passenger Touring, and a 1949 Cadillac Series 60 Special Fleetwood, along with other vehicles. Prior to that, I even spied a 1930 Cadillac V-16 Sport Phaeton up for sale. Not only has Cadillac been at this a long time, they've been at the top of the game!
Back to modern times, I was delighted to get behind the wheel of the 2020 Cadillac CT5-V. Although some rightfully call it the update of the CTS, what I can say, is that the CT5-V is a pleasure to drive without debate. I loved its firmness and handling. When you get in the league of optimal performance vehicles, those are just a few of the things that stand out. While I haven't driven the Audi S4 and Mercedes-AMG C43, two of the CT5-V's main competitors, I have spent some time with the BMW M340i, its other rival that I love. I can say that the CT5-V is in line with the M340i, based on my brief drive. Of course, I will have to drive it more extensively to be sure.
I only got to check out the all-new 2021 Cadillac Escalade, and it's big y'all. If you and your crew — be it family or friends — can't be comfortable in this, I don't know what to tell you. As befitting the Escalade, it's a good-looking vehicle — stylish, powerful, sophisticated, and durable. Of course to truly be sure, I will have to drive it. I can say, however, it definitely attracts attention!
As lovely as the Ritz-Carlton Amelia Island is, I needed to venture off the property on Saturday night, since I had arrived there Thursday. Of course, I took the XT6. As I learned, you can basically forget about doing anything on Amelia Island or nearby Fernandina Beach if it's later than 9 or 10 p.m., even on a Saturday. Salt Life Food Shack is the rare establishment pushing it to midnight. It's a cool spot that looks like it jumps during warm weather. It doesn't look anything like a shack though. Instead, it's pretty upscale and modern. Naturally seafood is the main fare, so my fish tacos were pretty tasty. I also learned that drivers should expect to cruise because the speed limit in the area can get as low as 25.
Before leaving Sunday, I woke early and took in the big competition day. By 1 p.m., though, I was on the road. I thought it was super cool that my friend could plug her laptop into the XT6 and work all the way home. I can honestly say I had zero complaints, so Cadillac's stellar reputation is still intact with me, and so is that of the Amelia Island Concours d'Elegance. I truly can't wait to do this annual gem again!